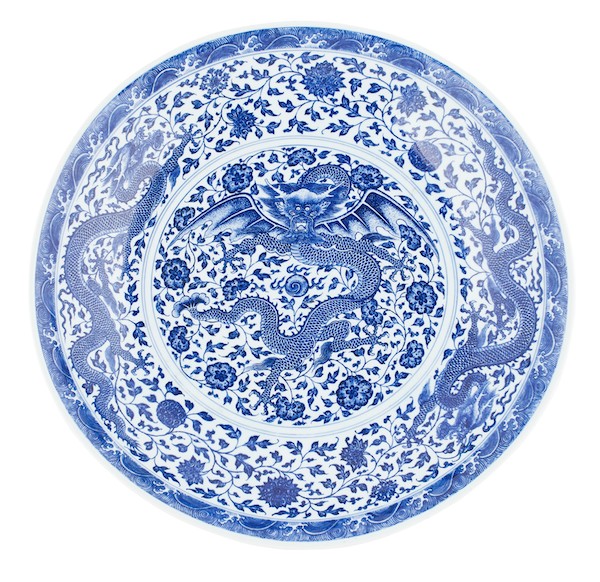 It was a record breaking day for Lyon & Turnbull yesterday as a Blue & White Ming Style Dragon Charger sold For £427,250
An impressive blue and white plate decorated with a five toed blue dragon encircling a pearl sold for £427,250   at Lyon & Turnbull in Edinburgh, it came from a private Scottish collection, in Dumfriesshire, Scotland. The client's uncle was a prisoner-of-war in Japan during the second world war and following his release he stayed in Japan working his way up to become a successful businessman. He collected this and many other Chinese and Japanese works of art on his travels throughout Asia. Bringing them back to England in the 1950's when he set up home in Yorkshire and later Scotland.
Lee Young Asian Specialist at Lyon & Turnbull said "This was a terrific result and is the highest price paid for Chinese porcelain of this kind in Scotland. The plate was one of a number of items found in Scotland by our experts, which all sold really well. The saleroom was busy and we had many telephone bidders from Europe, the USA and Asia, the sale made a total of over £1 million."
Among the other items found in Scotland in the sale was a Chinese Imperial festive summer robe, belonging to an Empress, from the collection of a Glasgow shipping magnate, it sold for £73,250. The robe comes from the collection of Leonard Gow, the noted Glaswegian shipping magnate whose collection of Chinese porcelain was one of the most important in Britain in the first part of the 20th century.  The piece was sold by the grand-daughter in law of Leonard Gow and upon hearing the news she said "I am absolutely thrilled to hear the result, I have had it hanging in my wardrobe with my clothes for years, just managing to stop the children chopping it up or wearing it as fancy dress! At Christmas when I heard that Lyon & Turnbull had sold a similar robe it inspired me to get in touch and I am so glad I did."
The robe is worked in gold and silver embroidery on a gold gauze ground, with standing waves at the hem and nine five-clawed dragons on the front, back and shoulder panels.  Placed throughout the field of the robe are the twelve symbols indicating it was intended only for the emperor's use.  The robe is richly detailed and in near immaculate condition and provides a rare glimpse of the exquisite workmanship of Qing dynasty imperial textiles.
An unusual flambé Glazed bottle vase with a glaze showing maroon red with streaks of purple and a splash of sky blue near the base, which came from the Walker Art Center, Minneapolis, Minnesota, USA, it was sold by a prominent Philadelphia collection for £181,250.
The sale made a total of £1,009,105 including buyer's premium.