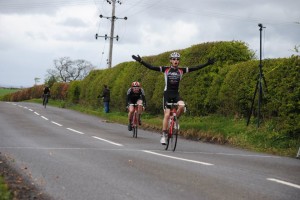 The British Eagle Trophy RR will be contested today 10 May on the Humbie circuit near Musselburgh. The race is contested with 2nd, 3rd and 4th category riders, and with a full field of 80 riders it is sure to be a hotly contested event.
With the absence of last years winner, Gavin Shuttleworth of Speg – Project 51, the race is blown wide open. Although the rolling circuit isn't tailored to a fast finisher, if one of the better sprinters can hang in to the final few hundred metre they could clinch it.
The pre-race favourites include David Anderson, of the Granite City Race team, and Phil Trodden of the Rigmar Racers, both of whom already have victories to their names this season. However if last years result is anything to go by this is a race that suits the junior riders (under 18) and the field boasts one of the best junior fields in a Scottish race this year with Ruari Yeoman, of East Kilbride Road Club, Stuart Balfour, of Spokes Racing Team and Sean Noon, of Edinburgh Road Club, all in top shape, and willing to cause a stir. However they will have to overcome the dark horses from the senior categories too, to lift the trophy, with riders such as Ryan Fenwick, of the Rigmar Racers, Kevin Barclay, of the Bicycle Works, and Keith Laird, of Team Thomson's Cycles, all well versed in road races like this and more than capable of getting their arms up at the end of the day.
The British Eagle Road Race will roll out from Humbie village hall at 11am and will be contested on 4 laps with the race finishing at the Crossroads school on B6371 at approximately  13:15.
Photo courtesy of Denise Raikkonen