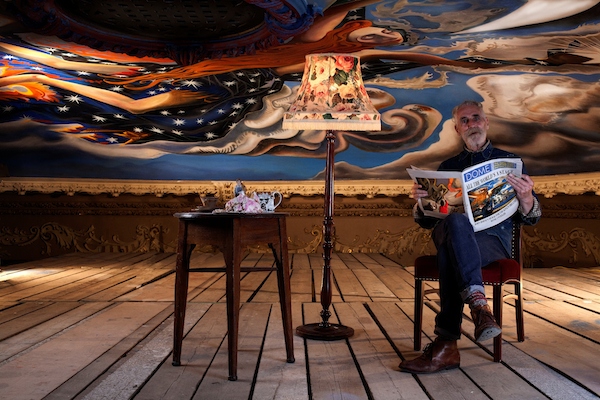 A launch event is being held at the King's Theatre in May to show off the photographic display of how the new dome was created.
Over the course of 35 days in the summer of 2013, the King's Theatre was closed to the public for a very special make-over. The 42 metre height of the King's auditorium was filled with a free-standing scaffold to allow access to the walls and the ceiling without damaging the delicate, listed interior for a major restoration of the decorative plasterwork. The icing on the cake was the installation of a new centrepiece for the theatre, the King's Dome Commission – an original mural designed by acclaimed painter and playwright, John Byrne.
Photographer Ron O'Donnell documented the entire project from the drawing board to the final unveiling of the artwork titled 'All the World's a Stage'.
This display presents a selection of Ron's photographs to give a sense of the process of transferring the original square metre design onto an 85m2 curved plaster dome, working at a height of over 42 metres above the ground.
Following scenic artist and project manager, Kevin Leary and his team of six, Ron's photographs capture the realisation of a major contemporary commission.
The King's Theatre will host a special launch event for the display on Thursday 8 May, featuring photographer Ron O'Donnell and the artists who contributed to the King's dome. John Byrne will be in discussion with director Michael Emans before the performance of Uncle Varick, starting at 7.30pm. Tickets available from the edtheatres box office. 
Ron O'Donnell is one of Scotland's finest contemporary art-photographers, renowned for his work in constructed and narrative large format. He has exhibited nationally and internationally and is collected by eminent institutions.  Born in Stirling in 1952, he lives and works in Edinburgh, and is a Lecturer at Napier University.
John Byrne was born in 1940 in Paisley and attended Glasgow School of Art. He is celebrated for his diverse talents as a fine artist, a designer of theatre sets and album covers, and one of the most notable playwrights of his generation. In 2014, John's work is celebrated in a major retrospective at the National Portrait Gallery and his reimaginings of Chekhov's Uncle Vanya (as Uncle Varick) and The Three Sisters in 1960s settings will be staged at the King's.
The King's Dome Commission
Photographs by Ron O'Donnell
Launch event: Thursday 8 May at 6pm
King's Theatre, 2 Leven Street, EH3 9LQ
Exhibition view followed by an audience with John Byrne and the director of Uncle Varick, Michael Emans
Tickets: £7.50 (includes a glass of wine).
Buy tickets on 0131 529 6000 / www.edtheatres.com/news/dome-exhibition.
Photo Rob McDougall