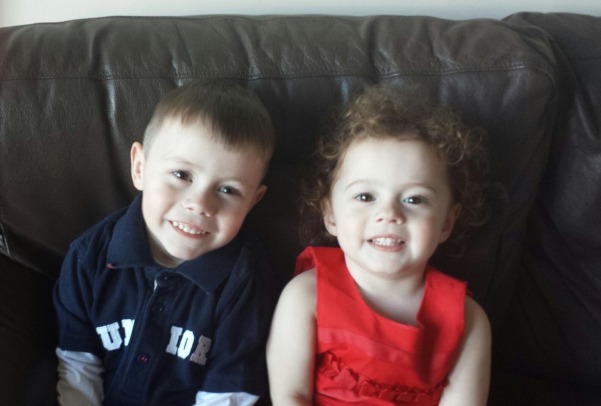 The parents of two young patients who have been diagnosed with Cystic Fibrosis have thanked the Sick Kids Friends Foundation (SKFF) for providing a wealth of services at the Royal Hospital for Sick Children (RHSC) in Edinburgh.
Kadan Robertson, three, and his two-year-old sister Elise have had the condition since birth and have spent the duration of their short lives in and out of hospital.
Cystic Fibrosis is a genetic condition which affects the movement of salt and water in and out of cells. This causes the lungs and digestive system to become clogged with mucus, making it hard to breathe and digest food.
Former business owner Jayne Brockie and partner David have spent three years accompanying Kadan and Elise to the RHSC for a variation of regular and emergency treatment.
Jayne of Bonnyrigg, Midlothian said: "The RHSC is like a second home to our family and we rely heavily on a number of initiatives available in the hospital to get from one day to the next.
"When Kadan and Elise are in hospital they have to stay in an isolation cubicle within the ward, so it's really important for us to be able to stay close to their bedsides in case they need us.
"The facilities in the room are fantastic. Without this clean and comfortable accommodation the kids and both of us just wouldn't feel at ease in the hospital or be able to get the rest we all need."
SKFF spends £30,000 every year to ensure that anxious parents have somewhere to spend the night. The charity invests the same amount again to renew furniture and fittings and supply housekeepers to ensure areas are kept up to four star condition.
Jayne continued: "Spending so much time in the RHSC can be difficult for Kadan and Elise, particularly as they must be kept in isolation when they are undergoing treatment.
"The hospital play specialists are another vital lifeline for us. They make the play area private for an hour at a time so that the children have an opportunity to enjoy this great facility."
The Foundation provides play equipment for all wards and waiting areas in the childrens' hospital. The SKFF recently invested £8,000 in an outpatient soft play area to create an improved recreational environment for visiting children.
Lorna Galbraith, play specialist at the RHSC in Edinburgh, said: "Hospital play areas provide children in isolation with a vital break from ward life and relentless treatment.
"The Foundation works hard to ensure this haven remains at a high standard to improve the experience of children receiving treatment at hospital."
The Robertson family will continue to use these SKFF-funded services on a regular basis as the young Bonnyrigg brother and sister endure their on-going battle with Cystic Fibrosis.
Maureen Harrison, chief executive of the Sick Kids Friends Foundation, said: "I'm delighted to hear that Jayne and her family continue to feel the benefit of some of our key investment facilities.
"Providing first-rate accommodation and play areas for our young patients are imperative to ensuring our support reaches those in need.
"We're always on the lookout for big-hearted corporate and volunteer fundraisers to help boost vital funds used to provide fundamental services to families from across Scotland."