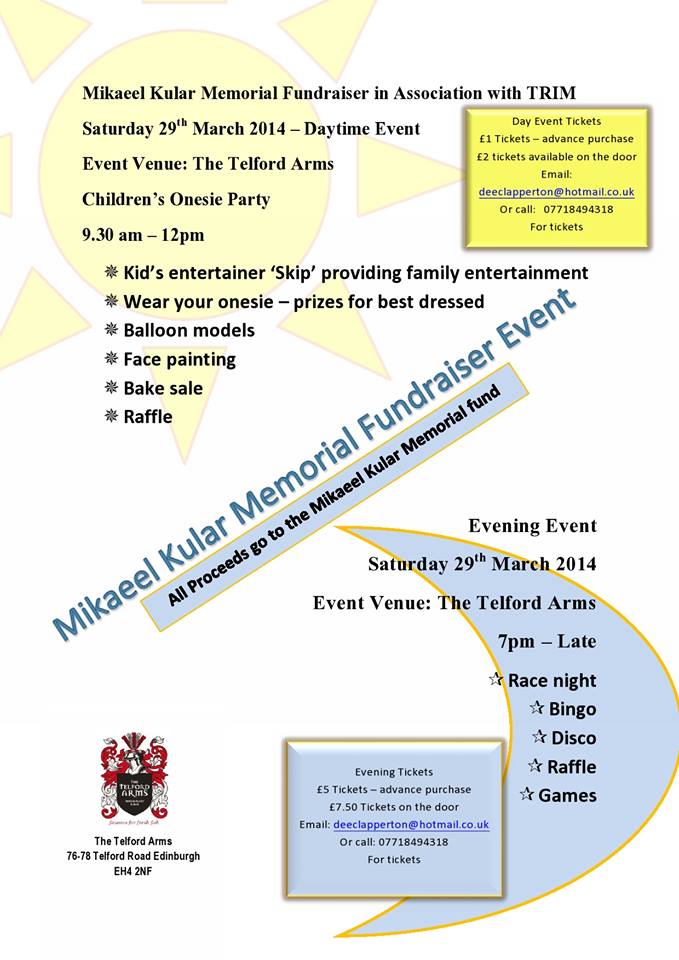 The community of North Edinburgh are raising money for a memorial tribute in honour of Mikaeel Kular who was reported missing in January, sparking a widespread search by the community.
Come join in the fun on Saturday 29th March 2014/
We have decided that since we came together at the most difficult time as a community we should all get involved and help raise some money towards it whilst having fun.
*FIRSTY*
We will be having a CHARITY MORNING for CHILDREN from 9.30am until 11.30am on 29 March 2014.
A ONESIE THEME event, tickets will be £1 pre booked and £2 on the door and we have a lot of fun stuff for the kids which include Face painting. This will be charged at £2 per face and all money will go to the total amount raised.
We will also have a bake sale which the kids can buy cakes biscuits ets from 5p – 50p . We will also have an amazing kids entertainer coming, Sweetie Cart and prizes for the best onesies.
All kids are welcome.
EVENING FOR ADULTS
We will be having a CHARITY NIGHT the same night 7pm until LATE which will include BINGO a RAFFLE and Some ADULT GAMES and PRIZES and also BUFFET and a DISCO to end the night.
TICKETS for the adults will be £5 pre booked and £7.50 on the door.
BOTH events will be held at the TELFORD ARMS PUB – Telford Road.
ALL MONEY FROM TICKET SALES AND GAMES WILL BE DONATED TO THE MIKAEEL MEMORIAL FUND
It's going to be a great night where we can remember how we came together as a community and try remember that as a positive in such a hard time.
You can purchase tickets from Muirhouse Community Shop or Telford Arms Pub
Submitted by Robert Pearson (TRIM)