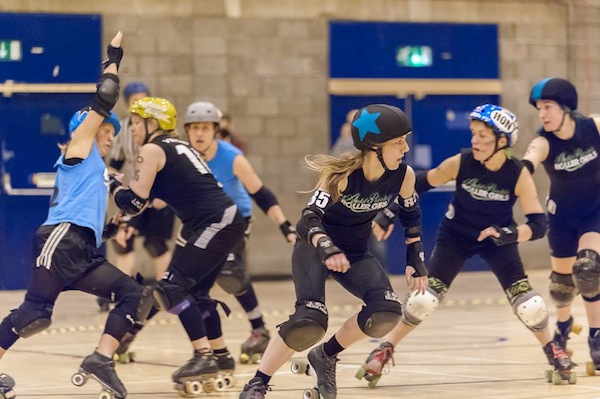 Auld Reekie Roller Girls' Home Season 2014: Leithal Weapons vs. Cherry Bombers
Auld Reekie Roller Girls' annual Home Season kicks off with a bang this Spring, as the three teams – the Leithal Weapons, Cherry Bombers the Skatefast Club – fight it out to see who will triumph in the league's third Home Season. The intraleague teams are made up of skaters of all levels, but this year the teams have been reshuffled: who knows who will win? There are sure to be twists and turns and unexpected results following this change in skaters: the teams have everything to play for.
It'll also prove valuable practice for those skaters in the Twisted Thistles, one of ARRG's travel teams, who will be winging their way to the The Big O tournament in Eugene, Oregon in May this year to take on some of America's finest roller derby teams.
The first bout of the Home Season takes place at Meadowbank Sports Centre on Saturday 1stFebruary, and will see last year's victors the Leithal Weapons take on the Cherry Bombers. Don't miss it!
Leith Weapons vs Cherry Bombers: 2pm, Saturday 1st February 2014 – Meadowbank Sports Centre
Tickets: £7 on the door or £5 (+ booking fee) from Brown Paper Tickets.

Season Tickets are also available for £15 (+ booking fee), giving you access to all four Home Season bouts. Click here
Free for children aged 14 and under
Photo : Scott Carroll