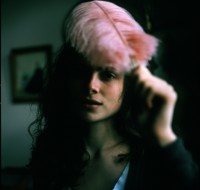 On Saturday evening 2 November 2013, Perthshire singer-songwriter Sophie Ramsay is launching her long awaited album The Glassy Mountain at the Scottish Storytelling Centre in the Netherbow on the High Street. She will be singing a selection of her haunting and poetic songs, each a powerful exploration of personal grief, love, death and resurgence, ranging from poignant folk with a European feel, through moments of visceral lamenting to gently upbeat pop.
The Glassy Mountain was produced by Edinburgh music icon Jim Sutherland and includes performances from some of Scotland's most outstanding talents in the realms of folk and jazz, including Matheu Watson, Fraser Fifield, Pete Clark and others, most of whom will play on the night.
Sophie has been writing and singing her own songs since her young adulthood, deeply influenced by her lyrical Highland inheritance. After Saturday she has plans to take her performance on tour.
Booking details here.
Submitted by Roddy Martine