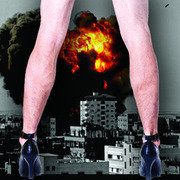 The Pleasance Queen Dome at 17.15 between 31 July and 26 August (except Tuesdays 13 and 20)
Following the success of Translunar Paradise, Theatre Ad Infinitum will premiere this ambitious new work at the Edinburgh Fringe. Co-Artistic Director, Israeli-born Nir Paldi, is writer, director and co-performer of the company's first politically-themed and acerbically funny piece, Ballad of the Burning Star.
10 reasons to see the Ballad of the Burning Star
1.      High quality physical-storytelling theatre. As with our previous successes like Translunar Paradise, and Odyssey –expect no less than the highest quality of physical work from Theatre Ad Infinitum, and attention to every detail that makes our storytelling special.
2.      Witness cabaret, drag, chorus and clown colliding headfirst with politics, human emotion and war straight from the heart of the Israeli-Palestinian conflict –not something you can say you see every day now, is it?
3.      An outrageous, controversial and extraordinary Drag Queen and leader of The Starlets, who goes by the name of Star, (she's a little unhinged and really doesn't hold back). Don't miss your chance to experience Star; you'll not forget her in a hurry…
4.      All-international All-female Cabaret Troop called The Starlets –ridiculously talented, devastatingly beautiful and hell-bent on telling our dark story with their leader, Star.
5.      Live music: we're working with Adam Pleeth who has composed, mixed and referenced a score that we can't wait to share with you – add to that some beautiful singing and vocal work and you have a very exciting element within the show.
6.      You'll be moved –this play is dark, tragic, poignant and moving.
7.      You'll laugh out loud – How else is Star supposed to deal with such a dark story that she feels compelled to tell us? Ballad is shockingly funny, precisely because you least expect it. You know what they say, 'if you don't laugh, you'll cry' – and in Ballad you'll find yourself walking a fine line between both emotions…
8.      Engage with themes that are rarely touched upon, and often misunderstood –there is a lot to think and talk about, and this play gives the issues facing Israel and Palestine back to the public forum in all its complexity –avoiding the trend to paint the situation black and white as is so often the case in the media today…
9.      You'll be surprised – Theatre Ad Infinitum love to surprise our audiences and give them what they least expect. This is a hard-hitting play, but it's also acerbically comic. Ballad is full of surprises and our audiences' experience is at the forefront of our minds when we create: so be prepared.
10.  It's risky, it's trying something we've never tried before!