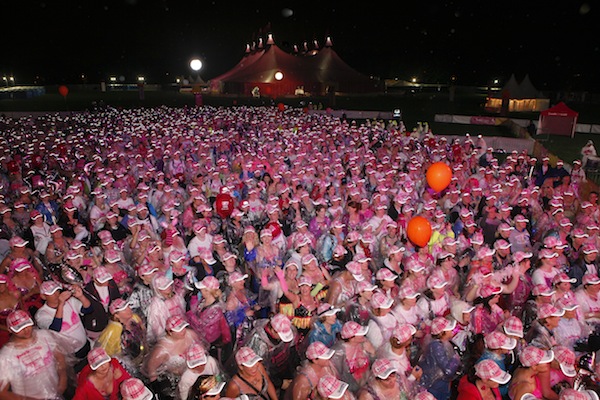 Our city's streets will be transported back to the Swinging Sixties this Saturday!  After months of training, thousands of women and men wearing brightly decorated psychedelic bras will Power Walk through the streets of the capital at midnight.
Organised by grant-making breast cancer charity, Walk the Walk, The MoonWalk Edinburgh Scotland has raised in excess of £15.5 million since 2006, with most of the money being distributed in Scotland, to help improve the lives of people with cancer.
This year's theme is "Psychedelic Extravaganza", where anything groovy goes, as long as it's bright and bold –a Magical Mystery Tour from the Swinging Sixties, full of Flower Power!
The walkers will start their amazing challenges from Walk the Walk's huge Pink Tent at its new venue at Leith Links. Uniting against breast cancer, many iconic buildings across the city will be lit pink on the night, giving the walkers a huge collective hug. Amongst others, Edinburgh Castle, The Royal Yacht Britannia and Lloyds on The Mound will all be basking in a pink glow!
The charity's walkers will be taking on two new Power Walking challenges this year. Anyone aged ten and over can do the quarter marathon New Moon (6.55 miles). For those seeking an extreme challenge, Walk the Walk has introduced the double marathon Over the Moon (52.4 miles). The famous Half Moon (13.1 miles) and Full Moon (26.2 miles) challenges are both still available.
STV Entertainment correspondent Laura Boyd will be taking on the Full Moon – Laura was diagnosed with leukaemia in 2009  and uses Maggie's Cancer Care Centre at Gartnavel Hospital in Glasgow, which is funded by Walk the Walk. Singer/songwriter Carrie Mac is also walking and five MSPs have signed up for The New Moon – Jackie Baillie (Dumbarton), Sarah Boyack (Lothian), Siobhan McMahon (Central Scotland), Mary Scanlon (Highlands and Islands) and Drew Smith (Glasgow). 
Entries for all the walking challenges are now closed, but Walk the Walk still wants more volunteers to sign up – a thousand are needed to help the event run smoothly. There's a variety of roles available, including route marshall, cycle marshall, water crew, clean and recycle team, and directional team (helping direct walkers, and other jobs on The MoonWalk City site).
To sign up as a volunteer, and for more information, go to www.walkthewalk.org/volunteer
Nina Barough CBE, Chief Executive and Founder of Walk the Walk said:
"The MoonWalk Edinburgh is a unique and very wonderful experience that will see thousands of ordinary women and men achieve something quite extraordinary. Not only are those taking part reaching their own personal goals, but they are also succeeding in really making a tangible difference for cancer patients in Scotland.  With walkers coming from all over Scotland, the UK and indeed, the world, it is wonderful that this beautiful city welcomes them with a huge pink smile".
"We are also all very excited to be introducing two additional challenges to the night, The New Moon, 6.55 miles, which is open to everybody over the age of 10 years, so we will be seeing lots of families taking part, which for many will be their first Power Walking challenge…and The Over the Moon, 52.4 miles and 2 marathons back to back!
The MoonWalk is an amazing phenomena which to date has raised over £15.5 million….keep on supporting it everybody, whether people Volunteer for us or Walk, we are making a huge difference to the lives of cancer patients in Scotland, and we could not do it without you"!