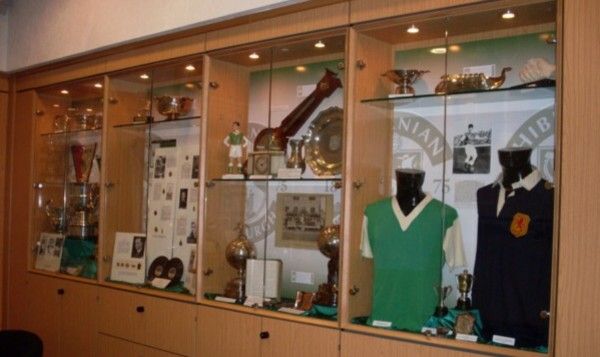 Hibs' fans will have the chance to go behind the scenes at Easter Road on Sunday, as the Hibernian Historic Trust will be conducting tours of the stadium as part of the Leith Festival.
The tour incorporates the Players' Lounge, the Gallery which is used for hospitality during match-days, and the Boardroom where Rod Petrie and the directors entertain opposition team officials, as well as the home and away dressing rooms.
Visitors will also be allowed trackside, although not on the hallowed turf which is currently being re-seeded.
Many artefacts, including club and international jerseys worn by heroes of the past such as Gordon Smith, Joe Davis and John Brownlie, along with trophies, medals, international caps, footballs, programmes, portraits, photographs and many other items of interest will be on show.
A similar event took place last year and attracted over a thousand visitors to the stadium, and organisers are hoping to exceed that number.
The Edinburgh Reporter spoke to Club Historian Tom Wright about the event.
Since its inception in 2004 the Trust has vigorously sought to protect, preserve and promote the history of the Club through its collections, exhibitions and events plus engagement with supporters and the wider community.
The tour take place between 1pm-4pm and anyone wishing to attend should go to the West Stand at the reception area.
Admission is free but donations are welcome to support the work of the Trust in preserving the history of the club. Children of a primary school age should be accompanied by an adult.