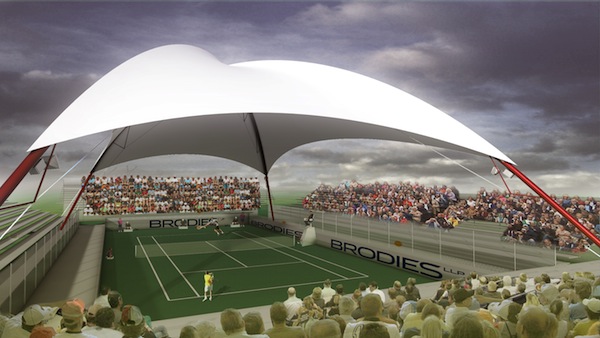 FIRST EVER TEMPORARY COVERED TENNIS COURT CREATED FOR BRODIES CHAMPIONS OF TENNIS
In any event manager manual, the first rule is plan for the worst weather and hope for the best – we do live in Scotland after all. So when the Tournament Director's first challenging question on suggesting bringing the ATP Champions Tour to Scotland for the first time was 'How do we keep the players dry?' the wheels were set in motion for a six month struggle to find an outdoor venue that could still be used for top class tennis….whatever the weather.
Damon Farrell from Airsculpt Ltd said:- 'When we were asked to provide a temporary demountable and reusable roof structure to cover an entire open air tennis court in Edinburgh, one of the UK's famously windy cities, we knew we had to come up with an innovative engineering concept,'
'The task became more challenging when we were told the structure had to comply with ATP international tennis tournament minimum height guidelines. Additionally it had to be a clear open span construction, be easy to deploy, architecturally pleasing and at the same time compliant with a myriad of cross over construction codes and safety standards.'
Viki Mendelssohn, Tournament Director, researched the options over a six month period before concluding that Airsculpt was the only company who could deliver such a temporary structure. She said:- 'When I first spoke with Damon at Airsculpt I had a clear vision of what we needed in Edinburgh, and I knew it was going to present some challenges. I'm absolutely delighted that we've been able to create our own unique court that will deliver that vision, and give weather protection to the players whilst on court. This is the first time a stadium of this nature has been built in Scotland so it is another first for the event. '
The stadium will have its first showcase on Thursday 20th June. Brodies Champions of Tennis takes place 20-23 June 2013 at Edinburgh Accies, Portgower Place, Stockbridge.
For details on players, match schedule and tickets, visit www.championsoftennis.com