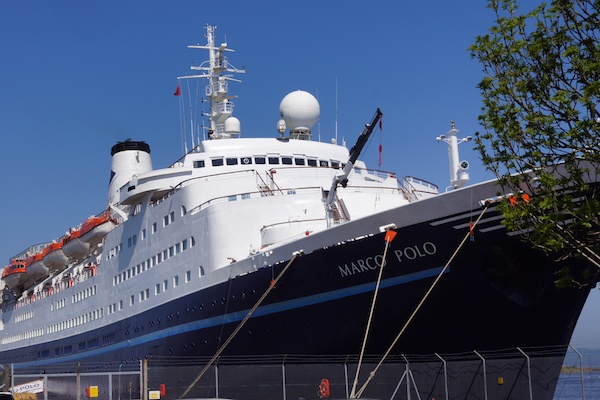 Cruise and Maritime Voyages (CMV) have included a 13 night cruise to the North Cape and Spitzbergen sailing from Edinburgh Leith on 30 June in their 'Buy One Get One Free' promotion. This amazing offer means that the first adult pays the 'Saver' fare, which is already discounted by up to 25%, from £1399 and the second passenger travels free!
This cruise will sail along the dramatic Norwegian coastline to the North Cape and on to the remote island of Spitzbergen, situated deep within the Arctic Circle. Spitzbergen is teeming with arctic wildlife including reindeer roaming free.
This 13 night cruise sails from Edinburgh Leith to Molde, on the west coast of Norway, from where passengers can travel across the mountain plateau and rejoin Marco Polo at the next port of call, Andalsnes, in the afternoon. From Andalsnes experience the scenery of Romsdalsfjord and there is a chance to travel the Trollstigen, one of Europe's most amazing roads with its many hairpin bends.
Marco Polo then sails to Tromso, and passengers can experience the phenomenon of 24 hours of continuous daylight at the high latitude of Honningsvaag at the northernmost tip of Norway – the land of the midnight sun. Longyearbyen is the port of call on Spitzbergen, in the Svalbard archipelago, a remote town nestling among rugged, snowcapped mountains.
Cruise along the silent Magdalenafjord viewing the majestic mountains on every side, to the tiny research settlement of Ny Alesund. Then Marco Polo sails south to the charming town of Torshavn in the Faroes, the smallest capital city in the world with its smart red, white and blue gabled houses.
Finally the cruise will call at Kirkwall in the Orkney Islands for a chance to see imposing standing stones, the beautifully preserved Neolithic village of Skara Brae and the former wartime naval base at Scapa Flow before returning to Edinburgh Leith.
This is a Cruise & Maritime Voyages 'Supercraft' cruise and includes workshops on either dressmaking, sugar craft, embroidery, knitting, jewellery or card making, pincraft, painting or textiles. There will also be guest speakers including John Hussey lecturing about the Vikings and the Guest Act, comedian Lloyd Davies will be entertaining passengers on board.
Marco Polo is a traditional and classic cruise ship, with teak decks and a distinctive dark blue hull. It is small enough to get to know your way around and offers the unique country-house-hotel style experience on board for which Cruise & Maritime Voyages are known.
Prices are based on the first passenger paying the saver fare, with two people sharing a standard twin inner cabin on a full board basis with afternoon teas, daytime activities and evening entertainment. Bookings must be made by 5 June 2013, are subject to availability and may be withdrawn without notice. Gratuities of £5pp per night will be debited to the onboard account. Full payment at the time of booking is required.
Reservations Cruise & Maritime Voyages (CMV) www.cruiseandmaritime.com 0844 414 6185