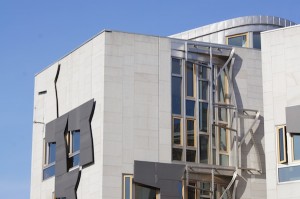 If you are old enough to remember glass lemonade bottles, then you will recall that taking these back to the shop resulted in a few pennies being refunded. Now that we are a recycling nation (again!) we are being coaxed back to old-fashioned ways. The Scottish Government is introducing a scheme to give money for cans and bottles being handed in at several centres around Edinburgh.
IKEA, Dundee University, Network Rail and Whitmuir Organics are amongst the nine companies and organisations trialling the projects, which will reward people for recycling glass, aluminium and plastic (PET) drinks containers through a range of incentives such as money back, discount vouchers or vouchers for donations to charities.
It is hoped that the local pilot projects, part of the Scottish Government's Zero Waste Scotland programme, will encourage people to recycle more and limit the amount of used drinks containers going to landfill.
Cabinet Secretary for Rural Affairs and Environment Richard Lochhead visited IKEA in Edinburgh today to see the first of the 'reverse vending' machines and hear how the retailer is introducing the scheme in its Scottish stores as a key part of its sustainability programme.
At IKEA, shoppers will be able to recycle any glass, plastic or aluminium drinks containers purchased from the restaurant, shop, or vending machines in their Edinburgh and Glasgow stores.  Once returned and deposited through the machine, for each item shoppers will be offered the choice of a 10p voucher to redeem in-store or a 10p donation to one of the stores' selected charities.
Cabinet Secretary for Rural Affairs and Environment Richard Lochhead said:
"Years ago, we thought nothing of taking our empty glass bottles back to the shops with the added bonus of getting cash back in our pocket. Now thanks to modern technology we are breathing new life into this traditional approach through the Recycle and Reward scheme. By offering customers incentives such as money back or vouchers for recycling their glass bottles and cans when out shopping, at college or travelling to work, I hope we can encourage more people to recycle on the go.
"Each year, around 22,000 tonnes of plastic drinks bottles alone go to landfill in Scotland. If that was separated for recycling it could be worth around £6 million to the economy and that's why it's so important that we help more people to recycle what they can.
"Even small steps like recycling more drinks containers can have a big impact on our environment. I hope this new scheme will encourage everyone to go that bit further, helping us to become a zero waste society. By taking small actions to go greener together we benefit Scotland today and for future generations."
Linton Scarborough, Store Manager, IKEA Edinburgh, said:
"At IKEA, we are committed to ensuring sustainability is at the heart of what we do. We strive to be a good neighbour and we want to inspire and enable our customers to live a more sustainable life at home, helping them to save or generate energy, reduce or sort waste, use less or recycle water.  We have a number of different sustainability initiatives in place in stores across the UK and also as a company, so we are thrilled to be the first business to trial the 'Recycle and Reward' scheme at both of the Scottish IKEA stores. We are excited about this great addition to IKEA Edinburgh and hope it will play a part in making sure recycling is always front of mind for both our customers and co-workers alike."
Iain Gulland, Director, Zero Waste Scotland, said:
"It's vital that we consider fresh approaches to boosting recycling rates and capturing the value of materials which would otherwise be sent straight to landfill. Through this pilot, we want to assess the impact of this approach which has proved successful around the world, including in Germany, South Australia and Scandinavia.  It's important we change the way people view waste in Scotland and we'll be looking at how incentivising these recycling schemes impacts on recycling rates and complements other schemes designed to capture valuable materials, including kerbside, recycling centres and banks."
In total, nine 'Recycle and Reward' schemes will be piloted at 14 locations including retail outlets, event venues, shopping centres, schools and colleges, as part of the Scottish Government's Zero Waste Scotland programme. The local pilots, which will run until September 2013, will be independently monitored and evaluated to assess the potential impact the roll-out of similar schemes could have on recycling rates in Scotland.
The following projects have been awarded funding through the Recycle and Reward pilot scheme:
University of Dundee – An on-campus initiative, with on-site reverse vending machines placed in prominent areas for use by staff and students.
Cordia Services LLP –Reverse vending machines will be placed in the refectory areas of Glasgow Caledonian University for use by students and staff
Heriot Watt University – An on-campus deposit and return initiative, with on-site reverse vending machines placed in prominent areas for use by staff and students.
Whitmuir Organics – A deposit and return pilot project for the collection of glass, aluminium and plastic (PET) containers at Whitmuir Farm
North Ayrshire Council – Reverse vending pilot for aluminium and PET at Garnock Academy, Ardrossan Academy and Largs Academy
IKEA, in partnership with the Reverse Vending Corporation – Fully automated pilot for glass, aluminium and plastics (PET) with the 2 Scottish IKEA stores
South Ayrshire Council – Reverse vending machines will be placed at the Council's Community Recycling Centres in Troon and Marr College
Network Rail – Reverse vending machines for aluminium and plastics (PET) to be placed in Edinburgh Waverley and Glasgow Central rail stations for use by commuters
Hebridean Celtic Festival – Reverse vending machines to be placed at the Celtic Festival