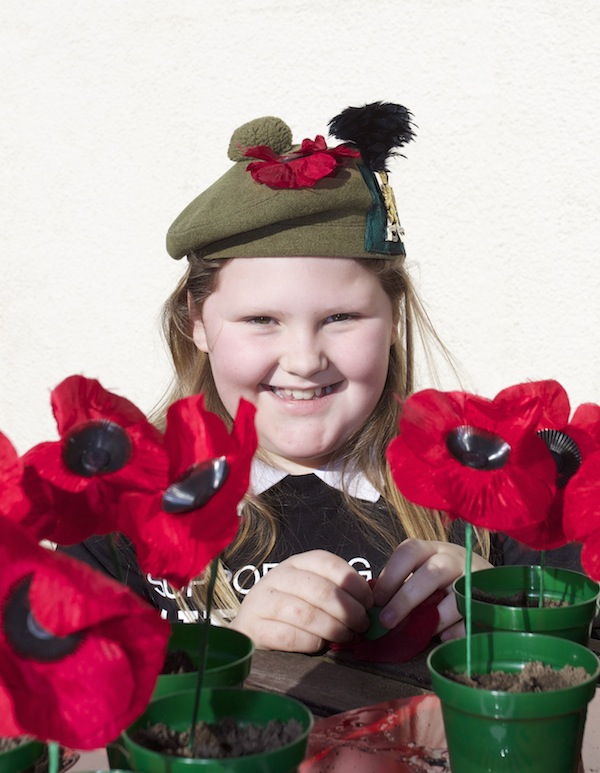 CHARITY SET TO FLOURISH AT GARDENING SCOTLAND 2013
POPPYSCOTLAND, the organisation that works to support veterans and their families, has been named the official charity partner of Gardening Scotland 2013.
Poppyscotland already has an association with Scotland's leading gardening event having been involved with a number of exhibits at previous shows and this year the charity will be using the opportunity to remind visitors that its work continues year-round and isn't confined to November.
Although best known for organising the annual Scottish Poppy Appeal, the charity needs to raise funds throughout the year to meet the demands on its services from veterans who can struggle with a multitude of complex needs, from physical injury and mental illness to finding secure employment and housing.
Nine-year-old Zoe Leask from Edinburgh whose dad, Corporal Gary Leask serves with 1 SCOTS (Royal Scots Borderers 1st Battalion The Royal Regiment of Scotland) 'plants' her own field of poppies.
Last year Zoe's mum Kay (36) received funding from Poppyscotland for a mobility scooter.
Corporal Leask said:- "It is good to know that Poppyscotland is there to support veterans and their families if they experience difficulties. I think people need to know that the charity works throughout the year, not just in November and Gardening Scotland is a great way to spread the word."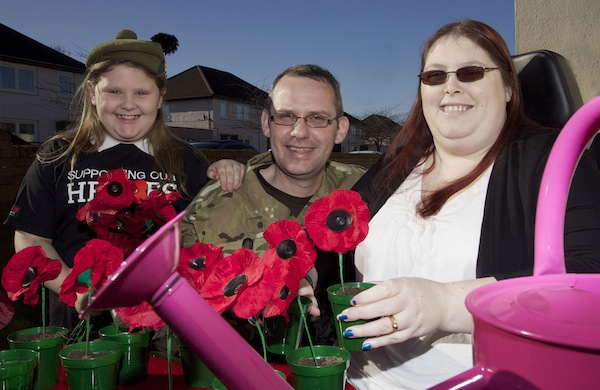 Ian McGregor, Chief Executive of Poppyscotland says: "We are delighted to be the official charity partner of Gardening Scotland in 2013. It's very important to us to be visible outwith our traditional fundraising period of November because we need to raise money all year round in order to continue to support Scotland's veterans and their families. Working with Gardening Scotland gives us an excellent opportunity to highlight our work in this way."
And Martin Dare, Show Organiser, Gardening Scotland says: "We welcome this chance to support Poppyscotland's vital work with veterans and we feel visitors to Gardening Scotland 2013 will also be keen to lend their support to the charity."
Gardening Scotland is the country's biggest gardening and outdoor living show, attracting 40,000 visitors and more than 400 exhibitors every year.
This year's show will take place from 31 May – 2 June 2013 at The Royal Highland Centre Edinburgh and will include Show Gardens, a Cookery Theatre where top chefs will be demonstrating fresh ideas for home grown produce, and a huge plant fair with top nurseries from across the UK.