HEALTH MINISTER HELPS SET SAIL TO DAME ELLEN'S DREAM
Dame Ellen MacArthur Celebrates Trust's 10th Birthday With Scottish Hub
It's ships ahoy for the Ellen MacArthur Cancer Trust, as founder Dame Ellen MacArthur meets Health Minister, Alex Neil MSP, to discuss plans for a Scottish hub.
Celebrating its tenth birthday this year, the Cancer Trust is looking to expand its services and make their dream of a Scottish sailing hub a reality, all thanks to the support of players of People's Postcode Lottery. In a meeting with Alex Neil today, Dame Ellen was keen to discuss how important the Trust will be for the Scottish youngsters living with or recovering from cancer or leukaemia.
Dame Ellen said: "Being here in Scotland to discuss plans with Health Minister, Alex Neil, for our Scottish hub is very exciting. We have already worked with over 29 Scottish young people so we know that what the Trust does is an integral part of their recovery. Having our services on their doorstep will make such a difference, allowing us to reach even more young people across the country.
"We've already seen what an impact our work on the Isle of Wight has had, so we know our hub in Largs will be just as life-changing. Yet, none of this would be possible without fundraising and support like that provided by players of People's Postcode Lottery. Without this funding we simply wouldn't have had the means to make our dream a reality and, as you can imagine, we are delighted to get it all started."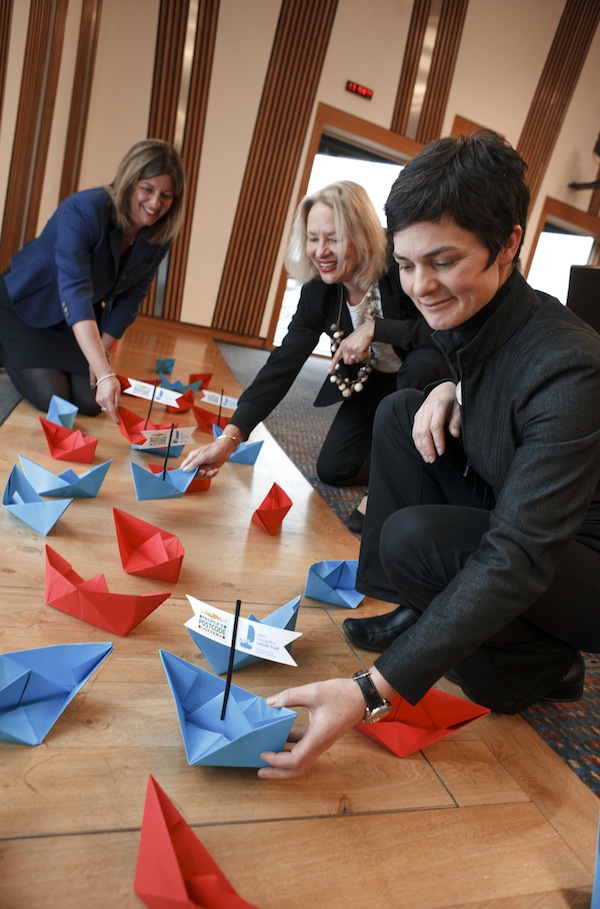 The Ellen MacArthur Cancer Trust has received funding of £40,000 from People's Postcode Trust, a small-grant giving charity funded entirely by players of People's Postcode Lottery. The funding will allow the charity to charter sailing boats from Largs on the West Coast of Scotland. Giving young cancer sufferers the chance to build their confidence, have fun and enjoy sailing.
Minister Alex Neil was keen to learn more about the Trust and its work across the country. The Cancer Trust is an integral part of the Scottish community, having already worked with Teenage Cancer Trust and CLIC Sargent, who provide a lifeline for the young people and encourage many of them to access the experiences provided by the Ellen MacArthur Cancer Trust.
Echoing the support previous Health Minister, Nicola Sturgeon, had shown for the project, Minister Alex Neil said: "I am delighted to learn that the Ellen MacArthur Cancer Trust will be bringing their dream of a Scottish hub to life this year. It's inspiring to see a charity work hard to make a young person's experience of cancer or leukaemia as positive as possible. Simply being involved with the Cancer Trust gives these youngsters the confidence to be young people again, to be around each other and find the strength to get their lives back on track."
Players of People's Postcode Lottery have raised over £22.6 million to date, £6 million of which has been awarded by People's Postcode Trust to organisations and charities, like the Ellen MacArthur Cancer Trust, that are making a big difference to grass root projects.