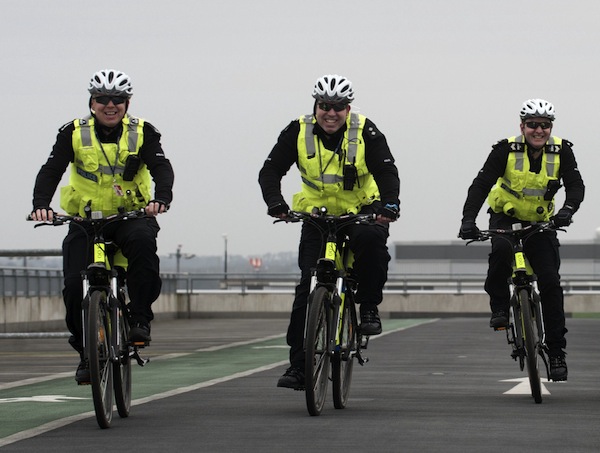 Three police officers are donning their cycle helmets this weekend to raise vital funds for the Sick Kids Friends Foundation (SKFF).
The courageous cops will tackle the 35 mile route from the National Museum of Flight, in East Lothian, to Edinburgh Airport.
Inspector Paul McDonald from Lothian and Borders Police Force will be leading his team including Sergeant Stevie Amabile and PC Alan Dunlop, who are all based at Edinburgh Airport, on the charity cycle.
Paul said: "We decided to raise money for the Sick Kids Friends Foundation because we have all had experience of a child who has been admitted to Edinburgh's Hospital for Sick Children at some point.
"It's a truly worrying time and terrible experience for any parent to go through. In particular, a team member's son fell seriously ill this year with pneumonia and the Sick Kids Friends Foundation was a huge support to him and his family."
The SKFF t-shirt clad police officers will begin their journey this Saturday and hope to bring a £1,000 cash boost for the charity to fund reward boxes for children who go through surgical procedures and to fund the maintenance of the hospital's fish tanks.
Edinburgh-based Paul continued: "We decided to donate all of the cash to reward boxes and the maintenance for the fish tanks because we wanted to physically give sick children something to enjoy. Children love animals and we feel it is important to reward those admitted to the hospital with something they can care for and enjoy. Fish are known to be therapeutic and we hope they bring a lot of positive energy to children suffering from a range of illnesses."
Will Guest, corporate fundraiser from the Sick Kids Friends Foundation, said: "We are delighted to support Paul and his team on their cycle challenge.
"Edinburgh Airport is one of our affiliated companies and we are very grateful for the support they have given the Sick Kids Friends Foundation.
"Although police deployment at Edinburgh Airport includes airport policing bikes, these police officers are in no way serious cycling competitors so we are delighted to see them going the extra mile for charity.
"The funds raised this weekend will provide luxuries for children undergoing treatment and will brighten up their hospital stay."