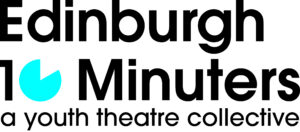 The Edinburgh 10-Minuters project ran for three nights from 22-24 March 2012  at the Counting House on West Nicholson Street. It was a fantastic collaboration of plays, all written, directed and starring young theatre talent which organiser Alex Clark really should be proud of. The performed pieces are below, but when put together they made an enjoyable evening, with the Saturday show selling out. Hopefully this will not be the last time the project is undertaken as it would be brilliant to see more talented individuals on the stage.
Best first-half play: OCCUPIED     Best second-half play: MODERN ART    
Best actors: Tom Chick / Rory Kelly     Best actress: Roz Ford
THE BARBECUE by Andrew Wiles, starring Rik Hart and Marcus O'Shea
First up was a story that was engrossing and fairly bizarre – the characters and the entire situation they were in was, to begin with, baffling, but as the story unfolded both the on-stage personalities really developed and bounced off each other well.
OCCUPIED by Rory Kelly, starring Tom Chick and Emma Nevell
Initially this could easily have been a largely comedic piece but the closing segment cleverly incorporated a deeper meaning. Chick did a great job on the night and the entire set-up was well thought-out and worked wonderfully.
CRUNCH! AND THE WORLD WENT DOWN by Catherine Exposito, starring Maria Kheyfets, Roz Ford, Jonathan Langley, Robyn Macrory-Beaumont, Oliver Giggins
With an interesting stage dynamic and thoughtful plot, Ford was the stand-out performer in this social commentary that may have been more fulfilling if it did not have to abide by the 10-minute time limit but that, of course, had to be the case. The play seemed to want to say more than it actually could.
NHRF by Andrew Simpson, starring Rik Hart, Chris Craig Harvey and Emma Nevell
The 'hairy shadow of the new forgotten underclass'  was a highlight in this piece but the story seemed just a tad underwhelming. It is always good to see characters 'arise from within the audience' which Nevell did successfully before bringing a touch of comedy that was beneficial to the overall play.
STANDARD CLASS by James Beagon, starring Rory Kelly, Marli Siu, Athina Kefalopolou and Nikki Cunningham
Kicking off the second set of plays was this brilliant plot mixed with top performances by all. The final few minutes were really engaging and Kelly's sincere character made the audience connect with all the personalities 'on-board'.
THE THIRD PERSON by Mark Nicholls, starring Jack Robbins, Alexi Phillips, Robyn Macrory-Beaumont and Nikki Cunningham
This play did not seem to gel or flow quite as well as some of the others but it was a humorous jaunt none-the-less.
OH MY GOD by Rhiannon Grist, starring Rory Kelly, Alexander Staniforth and Richard Rimmington
A cleverly comedic piece, this penultimate play was well written and well casted. The dialogue between the two main performers was snappy and expertly delivered throughout.
MODERN ART by James Macrae, starring Roz Ford and Will Kemp
A great way to end the evening. It was intriguing to see the 'relationship' between the two art gallery strangers develop and, although Kemp seemed to speak a tad too fast at times, he complemented Ford's character well with the 'breaking the fourth wall' commentary a fantastic touch.