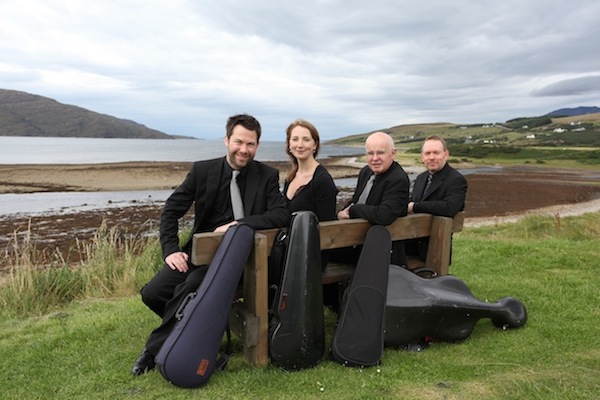 The Edinburgh Quartet has set itself a tough task for the 2011-12 season – a traversal of the complete Beethoven string quartets, cornerstones of the chamber music repertoire and some of the greatest music written for the medium.
The quartet launched its six-concert Beethoven cycle in a well-attended concert featuring three quartets from early and late in the composer's career. The Quartet in C minor, op.18 no.4, is from Beethoven's first set of string quartets, and the players took an appropriately fresh, youthful view of it in a clean, bright performance high on contrast. Their sound in the generous acoustic of St George's West was glowing and rounded, and their phrasing was impeccable and unanimous. After a nonchalant yet sophisticated second movement, the Menuetto might have been a shade too tempestuous, but the final Allegro was full of energy, with surging crescendos and some witty interjections from cellist Mark Bailey.
The Quartet in F major, op.14, is a transcription of Beethoven's E major Piano Sonata, and frankly it shows: the material isn't as memorable or idiomatic as elsewhere in his quartets, although the Edinburgh players gave a solid performance. First violinist Tristan Gurney delivered the piece's prominent melodic lines, full of intricate twists and turns, with elegance and grace, and recently appointed viola player Jessica Beeston, while perhaps yet to assert a strong individual personality, had a noble tone and beautifully clean playing in some brief solos.
The concert concluded with the Quartet in E flat major, op.127, one of the composer's famous 'late' quartets in which he aspires to transcend the form in searching, large-scale music. Despite a few moments of slippery intonation, the Edinburgh players gave an assertive, dramatic performance: the well-known opening chords had a rich, glowing intensity, and the lengthy second-movement variations felt entirely natural and unforced. The finale combined rustic vigour with Classical poise, and the quartet delivered a radiant conclusion that was full of fantasy and a fragile beauty.
The Edinburgh Quartet continues its Beethoven quartets cycle at St George's West on 9 & 30 November, 1 February and 7 & 28 March.
Photo © Jean Stoner