By David Kettle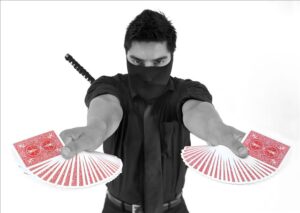 Think of a show of card tricks and you'd probably imagine plucking cards from thin air, guessing cards chosen by volunteers, that kind of thing.  Javier Jarquin does a bit of that in his act, but there is also much more in his brilliantly entertaining performance. After all, Jarquin is a Card Ninja, so his world is one of acrobatics, martial arts and even using the spinning cards he launches into the air as weapons – although it's hard to imagine someone so warm and friendly resorting to that.
Telling the story of his twin obsessions with card tricks and ninjas – which, he admits, will appeal to all 12-year-old boys in the audience – Jarquin takes us through the challenges he has overcome in his quest to rise to the status of Card Ninja, sending cards whizzing across the audience in tests of accuracy and speed, and peering into the eyes of his volunteers to identify the cards they've chosen.
He's refreshingly candid about how hard some of his stunts are, but his rapport with the audience is so strong that although it might sometimes take a few practice goes to achieve a particularly difficult challenge, there's a real sense of shared achievement when he pulls it off.
And he's keen to stress that what he does are not tricks at all – they're skills he has honed and studied over time, and practised until they look effortless. Which makes his acrobatic manoeuvres and his strength-testing climax, where he attempts to impale a watermelon with a single playing card, all the more impressive.
Catch him on Sunday 3 July at his second Edinburgh International Magic Festival show, or in August when he returns for two shows during the Fringe.
Card Ninja, Sun 3 July, 5pm, The Stand
Edinburgh Festival Fringe:
Card Ninja, 4-28 Aug (not 15, 22), 1-1.50pm, Assembly George Square
Javier Jarquin: Bullets before Bedtimes, 4-29 Aug (not 15, 22), 8-8.50pm, Assembly Hall