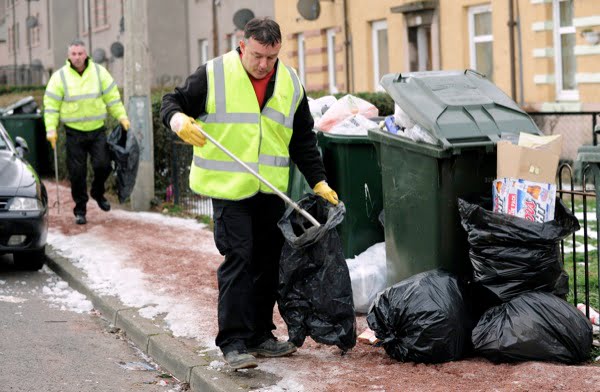 During the Christmas and New Year holidays the Council has arrangements in place to deal with the severe weather.
Weather predictions suggest that from Sunday 26 December and overnight into the 27 December a slow thaw is expected.
The Council says that it has adequate salt supplies and is pre-salting all category 1 and 2 roads by Friday 24 December in preparation for the holiday period. At the moment, category 3 roads are currently being cleared and gritted and unless weather conditions change, are expected to be complete by the weekend.
The Council is currently catching up with refuse collection with the backlog of 'hard to reach' wheelie bins by using smaller vehicles and emptying by hand and aim to ensure all households have had a collection before Christmas.
Households can continue to use their brown garden waste bin for general rubbish until further notice. Residents are being asked to make sure they bag their rubbish before putting in their bin, to make it easier for the refuse staff to collect.
Additional skips, where residents can take their refuse are being placed at locations across the city. Trade waste and packaging waste collections are up to date and 'on street' containers on main roads are being emptied regularly.
Robert Aldridge, Environmental Leader, said: "Since the severe weather began, we have had contractors and staff out working hard through some bitter weather conditions. This year, we have been pulling out all the stops in preparation for the cold spell. We have seen the worst winter for a number of years and we have a number of arrangements in place so residents can enjoy a safe and happy Christmas."
Schools
Schools will be risk assessed on 9 January for issues relating to the weather and gritters will be called in to deal with snow clearance if required (special schools access will be prioritised).
Teachers are due to return to school on 10 January 2011 and pupils  on 11 January 2011.
Potholes
Squads are currently carrying out 'make safe' emergency repairs to potholes as they are reported. From mid January, teams of contractors and Council staff will switch from snow clearance to carry out permanent pot hole repairs throughout the city.
Health and social care
Emergency supplies are still available for those assessed as being in need and 4 x 4 provision is continuing for the Emergency Social Work teams and the regular night time Home Care Service over the holiday period. Day centres for older people are open as normal however disability day centres and respite centres will close as they do every year over the holiday period re-opening on 5 January.
The public are asked to continue showing their community spirit by checking on vulnerable and elderly neighbours over the Christmas Bank Holiday weekend to make sure they are coping with the severe weather conditions and have enough supplies in their homes.
Anyone who is concerned about someone who they feel should be getting assistance can contact the social care direct team at the Council on 0131 200 2324, and staff there will arrange appropriate follow up. In the evenings and weekend contact can be made with the out of hours service at 0800 731 6969.
The Council is prepared for dealing with the severe weather over Christmas and New Year and is asking locals to follow the Edinburgh Snow Code
Updates can be found on the Council Twitter pages edintravel_CC and Edinburgh_CC as well as their Facebook page