Beth Nielson Chapman is singing at The Queen's Hall on Tuesday 5th October and Corinne Bailey Rae is there on Thursday 7th October. More details here.
Sunday 10th October a performance of The Planets by the Houston Symphony backed by outer space images takes place at The Usher Hall. More details here.
Business Networking event organised by Bizini on 5 October, at Gusto, 135 George Street 12.15 for 12.30 till 2pm
www.bizini.co.uk It is now 2 years since Bizini was founded and they promise cake and fizz!
Blackwells run a Book Quiz on Monday 4th October at the Costa Coffee on the first floor. The event starts at 6pm. Entry is free but places are limited so you are advised to come along early.
The Gliterary Lunch is at The Caledonian Hotel on Thursday when authors Sadie Jones and Alice Thompson read a little from their books, answer a few questions and everyone eats lunch. More details and advance tickets here.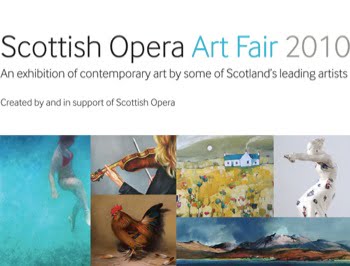 Scottish Opera Art Fair runs from 7th to 9th October. Entry free. Proceeds for Scottish Opera. Featuring paintings, collages, photography & sculpture by Sue Biazotti, Gerard Burns, George Devlin, Archie Forrest, Jack Frame, Peter Howson, Robert Kelsey, Jock MacInnes, Edward Hasell McCosh, Lin Pattullo, Greer Ralston, Glen Scouller, Tom Shanks, Jill Watson, Hugh Watt, Elaine Wilson, Gordon Wilson and Helen Wilson. Taking place at Dovecot Studios 10 Infirmary Street, Edinburgh EH1 1LT Tel 0131 550 3660 Open 10.30am to 5.30pm daily.
You can get down and dirty at The Big Leith Clean-up! This week it is being held at Victoria Park on 9th October and you should meet there at 11am at the statue of Edward VI by Newhaven Road. The clean-up lasts till 2pm. You are advised to wear sturdy boots and outdoor clothing. Children are welcome but must be supervised by an adult at all times. More information on The Greener Leith Social page here.
The Scottish Storytelling Centre is putting on a drama called A Promised Land Theatre Objektiv on Wed 6 & Thu 7 Oct at 7.30pm (1hr 15mins plus post-show discussion) £9/£7.   Rivka Feldman, a Holocaust survivor, was friend to Jane Haining, the Scottish missionary murdered in Auschwitz. She enters Scotland illegally, carrying a gun. Is there still a land of hope, and what is Jane's true legacy? This tense drama by Raymond Raszkowski Ross throws light on continuing conflicts. From Scottish company Theatre Objektiv. Followed by discussion. Full programme of events at the Centre is available too. whatsonseptnov Includes details of the events on 9th October which is National Poetry Day.
Zumba is the new way to fitness. You can go along to a taster session on 5th October 2010 between 7pm and 8pm at Holyrood High School Dance Studio or on 6th October 2010 between 7pm and 8pm to St James Parish Church Hall when they are staging a Charity Zumba Class. Thereafter the classes will be £4 per session on a drop in basis. For more information contact Claire Fraser through the website.
On 7th October you can go to the National Poetry Day Tea Party at The Scottish Storytelling Centre at 3pm. You are invited to bring along your favourite poems to share aloud. Takes place at The Scottish Poetry Library at 5 Crichton's Close Canongate. More details here.
And on 8th October you can go on a Poetry Walk. Kirkcaldy born poet Ken Cockburn takes you on a walking tour around the wynds of Edinburgh's Old Town accompanied by enchanting poetry to charge the soul, in celebration of National Poetry Day. Poetic History lets you explore the literary history of the area while soaking up the inspirational surroundings and sampling stirring verse. The tour begins at The Scottish Storytelling Centre where you can also purchase tickets at 2.30pm. Numbers are limited so make sure you book your space!
And if you decide to stay home….BBC One's business entertainment series The Apprentice returns for a sixth run on Wednesday 6 October, as a new line-up of corporate contenders face Lord Sugar as they battle for boardroom supremacy.