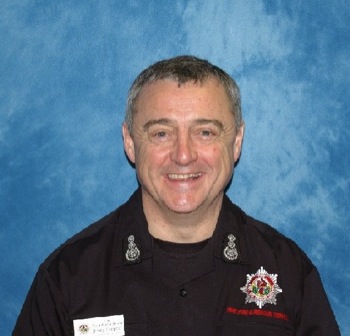 The new Chief Fire Officer for Lothian and Borders Fire and Rescue Service has said he believes that a merger of the eight fire and rescue services across Scotland is 'inevitable' in the face of swingeing financial cuts facing the public sector.
In his first interview since he took up his post on the 12 July, Jimmy Campbell has laid out his vision for the future and the potential shake up that will be required if public finance efficiencies over the next four years are to achieved.
Speaking about the unchartered waters that lie ahead he said: "We don't know at this stage what cuts will be expected in services like ours but with commentators speculating on cuts from 12% to as much as 25% we know these cuts will be significant and there is no way that cannot affect how we currently do business.
"I am seeking a national approach from the fire and rescue services' Chief Fire Officers to establish a realistic direction and course of action that fundamentally protects our frontline firefighters and maintains the quality standard of services that the people of Scotland have come to expect.
"At present we do things eight times over, eight Chief Fire Officers, eight sets of senior management, eight sets of back office support across a range of jobs, Personnel, Pays, IT to name but a few.
"If we look at the number of fire and rescue services in Scotland there must be a better way of doing things. In Wales they have already reduced the number of services they have without apparent detriment to the core services they are required to provide by law.
"I believe that it's inevitable that at the end of this four year period of budget cuts we will not have eight Fire and Rescue Services across Scotland, they will have been merged perhaps to three, covering the West of Scotland, South East and the North.
"At present our services match the set up at local authority level and that is also reflected by the number of police forces and health boards in Scotland. Perhaps at Government level there is a need to look at a total reorganisation to find a more effective way for agencies to work together and in particular how back office services are supplied.
"There has been much good work done by the fire and rescue service in the past few years to reduce fire deaths across the country by around 25%. It is critical that any changes we make do not affect frontline services and undo this excellent record that has contributed to making Scotland a safer place to live.
"We need to start the discussion now if we are to have the time necessary to effect fundamental changes in how we continue to deliver services and deliver efficiencies at the same time.
"In Lothian and Borders 84% of our gross expenditure is in staff costs, this will be replicated in other fire services.  If we are to deliver savings of some 20-25% as some suggest, sharing back room services alone will not give us the required savings.
"We need to be in a position to fulfil our duties under the Fire Scotland Act which includes a firefighting capability, response to road traffic collisions and a fire prevention role. For fire crews to carry out this work they need back office support, people to pay them, ensure they have IT support, take the calls for emergency assistance to name but a few.
"At present we don't have the answers because we don't know what level of budget cuts to expect and we await the outcome of the spending review on October 20. The sooner we can confirm what will be taken out of our budgets the better. At present the uncertainty hangs over us all in Service. We must continue to provide the best public service we can, but remain very uncertain about the future. All we do know is that we face an unprecedented level of change.
"I still think we provide a fantastic service. In the past four years we have worked hard to continuously improve on what we do, but this good work could be undone if cuts harm our frontline service. It is very likely to have knock-on effects on some of the work we do in areas like youth engagement and the likelihood is that the youngsters that currently benefit from these type of very successful schemes will miss out. That in turn could have an effect on anti-social behaviour and more generally the relationship that exists between the service and various section of the community.
"I will be looking to work closely with other Fire and Rescue Service chief officers and with our trade unions as it is they who will play a key part in helping us to achieve a solution."