Vegware, the UK's only completely compostable food packaging firm, has launched the world's first compostable double-wall coffee cup. The Edinburgh manufacturer claims it is, 'the greenest insulated hot cup on the market'. It is the first insulated cup ever to be made entirely from low-carbon compostable materials. It is made locally out of EU materials, reducing shipping miles.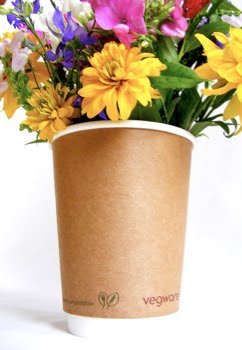 Vegware is offering full-colour custom printing for orders of 5,000, a tenth of the industry's standard minimum. The firm's MD, Joe Frankel, says, branding is a powerful tool. This is an exciting development, as it brings the branded cup within reach for any size operator. Local manufacture brings printing lead times from ten down to three weeks.
The cup is made of a high-recycled-content paper outer and an inner of sustainably-sourced paper. The two layers are bonded together with a compostable resin and lined with GM-free cornstarch. The high quality, full colour prints use water-based or vegetable inks. Within the commercial composting system, it can be composted in 6-12 weeks, turning into compost or biogas and topsoil.
Frankel added:-"Scotland loves takeaway coffee, but also wants to be eco-friendly. Our new cup is as green as they come it's made locally, so we're reducing cup miles. Since it's compostable, it needn't go to landfill. Instead, it can be organically recycled together with food waste. Vegware has set up a UK-wide composting collection service in readiness for April 2011, when the Landfill Directive dictates that landfill will cost more than organics recycling."
Vegware has won a series of awards this year including its key duo, Joe Frankel and Dominic Marjoram, being named 'Sustainable Development Champions' in the prestigious Scottish Green List Awards. Vegware also won 'Best Disposable' in the Caterer and Hotelkeeper Excellence award for inventing the world's first compostable hot cup lid.