| | |
| --- | --- |
| A Beautiful Day in the Neighborhood | |
| Director: Marielle Heller | |
| Screenplay: Micah Fitzerman-Blue, Noah Harpster | |
| Cast: Tom Hanks, Matthew Rhys, Chris Cooper, Christine Lahti | |
| Length: 109 minutes | |
| Rating: PG | |
| | |
Enchanting and surprising.  A golden adventure.
Using the 1998 Esquire article "Can You Say…Hero?" by Tom Junod as inspiration, this film follows witty yet cynical journalist Lloyd Vogel (Rhys), as he is tasked with writing a profile on television personality Fred Rogers (Hanks) and how this friendship will change the course of his life.  For those unaware, Rogers was an American national treasure who presented the widely adored children's series 'Mister Rogers' Neighborhood' for over thirty years. Overjoyed reactions by Oprah Winfrey and Arsenio Hall to his mere presence in their midst says it all.
Much like the medium of television, Rogers' life and work is an interesting conundrum of both authenticity and artificiality. While the miniature town and city sets and puppets on the programme are toys by design, the presenter and the home from which he presents are life size, also by choice.
For a person of such purity, Rogers is not a character as Vogel presumes but also not a saint as Rogers' wife points out. He has, and wants, to work at it. Rogers is a just a man who believes in recapturing the imagination of childhood in adulthood and delivering that message to each demographic on screen and off. Vogel finds this genuineness difficult to believe setting the stage for a meeting of opposing minds but eventually kindred spirits. This is the story of how that happens.
Originally filmed with live musicians at WQED Studios in Pittsburgh, Pennsylvania, 'Mister Rogers' Neighborhood' has been wonderfully re-enacted in standard definition picture format and aspect ratio to contrast with the real world going on away from the camera lens. Much like the format of 'Mister Rogers' Neighborhood', the film unfolds as children's story covering challenging adult themes, introduced and concluded by Hanks' Rogers.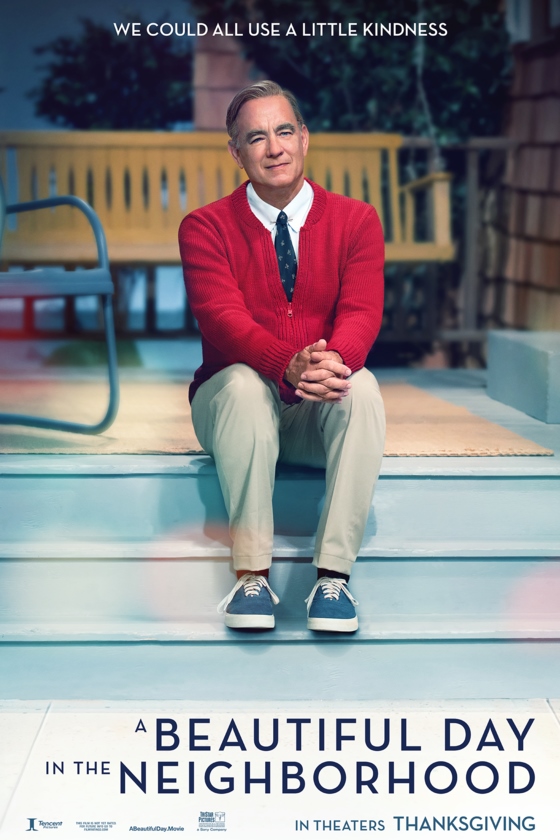 A film of this sweetness and delicacy necessitates that we suspend our disbelief and befriend our imagination once more. My advice is to watch with the soft embrace of Rogers and not the hard scepticism of Vogel, despite those qualities required of their respective work. Resistance is futile.
As it turns out, adults need Rogers as much as children do. As adults we are trained to resist childish play but playing brings us closer to our own humanity. Playing as children was often the time when we were happiest and holding on to that ability to play may help us find fulfilment as adults. Rogers reminds us of this.
Similarly, to the end credits of 'Saving Mr Banks', where Hanks embodies Walt Disney, another American icon beloved by children, we are granted access to the original recordings of Rogers' at work in archive footage on an episode of the children's television programme. A nice touch. While Hanks played the supporting role in both films and shamefully wasn't nominated for any major awards for 'Saving Mr Banks', after almost two decades he has received his sixth Oscar nomination for 'A Beautiful Day in the Neighborhood'. Also, a nice touch.
Both films dramatise the interactions between lesser known writers' and high-profile figures with the life of the former very much in the spotlight. With the scandalous exemption of an Oscar nomination, Emma Thompson's dominating performance as Mary Poppins' author P. L. Travers in 'Saving Mr Banks' was the focus of most awards season attention however, this time, Matthew Rhys' subtle turn as Esquire magazine journalist in 'A Beautiful Day in the Neighborhood' has been largely overlooked. An overly crowded leading category race, perhaps? Who can say for sure?
At one powerful moment, Hanks' Rogers breaks the fourth wall. Not with a weapon of course, but by staring down the camera lens at us just as he does to the audience of children on his television programme. At the end of one episode he says: "I like you just the way you are." We need to say these words out loud to ourselves more often than we do. Or at least have somebody like Rogers who can do it for us. Of that I can say for sure.
'A Beautiful Day in the Neighborhood' is in cinemas now.