A stylishly executed drama that captures the cultural zeitgeist.
Direction:
Jay Roach
Screenplay:
Charles Randolph
Cast:
Charlize Theron, Nicole Kidman, Margot Robbie, John Lithgow,
Kate McKinnon, Connie Britton, Malcolm McDowell, Allison Janney
Length:
109 minutes
Rating:
15
Set in 2016, Megan Kelly (Theron), Gretchen Carlson (Kidman) and (composite character) Kayla Pospisil (Robbie) have been sexually harassed by predatory Fox News Chairman and CEO Roger Ailes (Lithgow) but are at different stages of their lives and careers.  
News anchor Carlson is fired after angering the network and its audience before preparing to sue Ailes, Kelly is the current star news anchor questioning whether to come forward against Ailes and  Posposil is a new arrival at what she thought would be her dream job.  
In Bombshell, we have a backstage pass to watch the high pressure and competition of 24 hour cable news where the camera is always on the move; panning, zooming and refocusing, reflecting the fast pace and constant rate of change.
Transformed by subtle prosthetics and vocal register, Theron is particularly impressive as Kelly, delivering dialogue in voiceover and breaking the fourth wall (as do Kidman and Robbie) to provide us with context on Fox News and her place within it as she strides through the newsroom sets.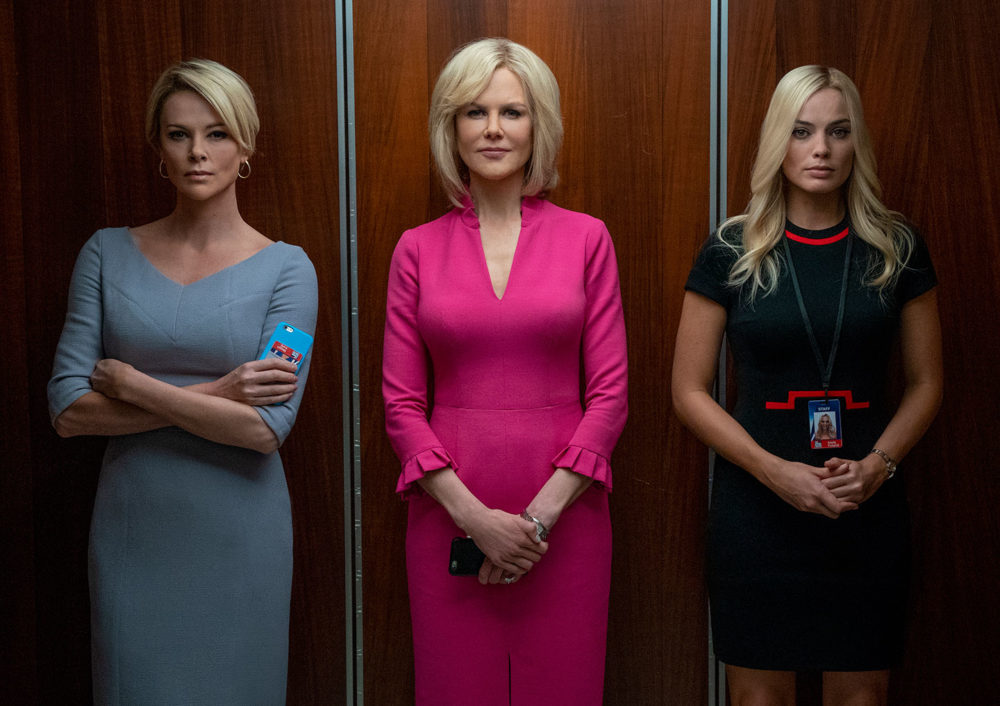 Director Jay Roach, who also helmed the HBO political drama films Recount, Game Change and All The Way, brings much of the same class and flair for behind the scenes storytelling to this biographical drama as he brought to Trumbo, his previous cinema release.  Also in voiceover is the shocking testimony from other survivors of sexual harassment at the hands of Ailes, an unexpected and commanding move.  
Both Bombshell and the Showtime limited series The Loudest Voice, which depicts the rise and fall of Roger Ailes over twenty years as he builds Fox News into the media powerhouse that exists today, have received significant awards season attention.  While Theron and Robbie have collected Oscar, BAFTA and Golden Globe nominations for their leading and supporting performances in the film, respectively, Kidman and Lithgow were overlooked for their supporting turns.  In contrast, Russell Crowe won a Golden Globe for his portrayal of Ailes while the limited series was also nominated.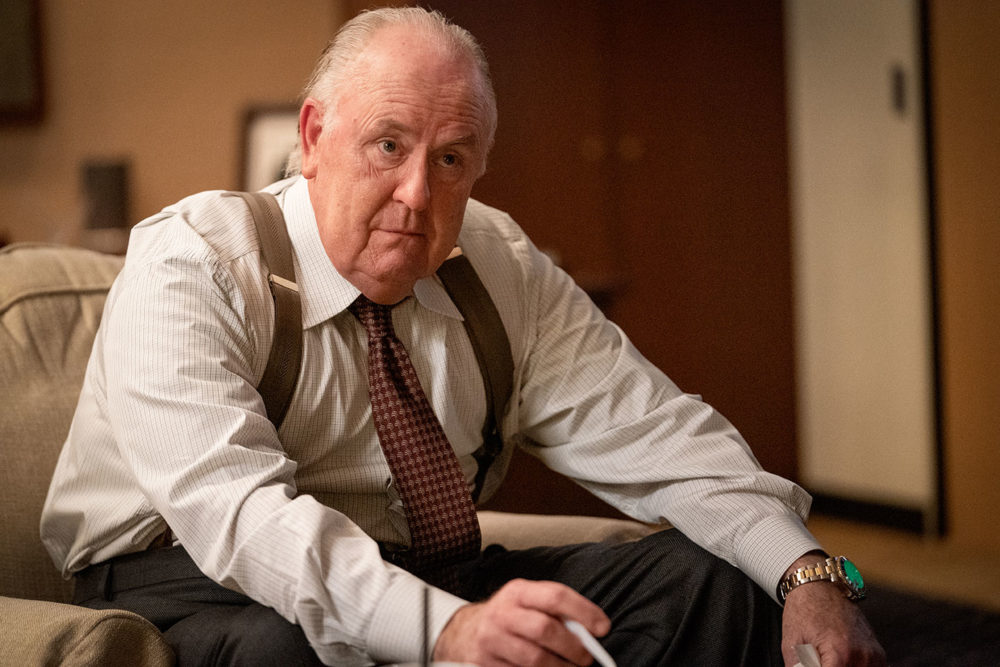 While Bombshell focuses more on Kelly and The Loudest Voice on Ailes, both projects recognise the pivotal role of Carlson in the downfall of Ailes.  By stepping into the firing line, literally and metaphorically, to expose the sexual harassment by Ailes, other women were encouraged to come forward.  But this decision was a huge risk considering the media machine and toxic culture that opposed them.  It would leave their lives, career and relationships vulnerable to attack.  After surviving assault in private, they would need to withstand further onslaught in public with no guarantee of effecting significant change. 
Since 2016 there has been a monumental cultural shift in action for survivors and reaction against perpetrators of sexual harassment, with particular reference to individuals and industries in the public eye. But how much of the system has changed when the settlements for accusers is much lower than abusers, as highlighted at the end of the film?
Bombshell broadcasts this heart-breaking news from the women's point of view.
Bombshell is in cinemas now.