Not just for children. It's adult friendly too.
| | |
| --- | --- |
| Direction: | Will Becher, Richard Phelan |
| Screenplay: | Mark Burton, Jon Brown |
| Cast: | Justin Fletcher, John Sparkes, Amalia Vitale |
| Length: | 87 minutes |
| Rating: | U |
As the eighth film release to be produced by Aardman Animations, 'A Shaun the Sheep Movie: Farmageddon' follows in the hallowed stop-motion clay animation fingerprints of other feature films 'Chicken Run', 'Wallace and Gromit: The Curse of the Were-Rabbit' and the first 'Shaun the Sheep Movie', which made over £100million worldwide and received Oscar, BAFTA and Golden Globe nominations.
Unsurprisingly, 'Farmageddon' is yet another jewel in the Aardman crown. Painstakingly realised and beautifully crafted, expect more nominations during the upcoming awards season. Due to a catalogue of critical success, one could almost become complacent that every Aardman project will deliver as before. But they have. A remarkable achievement.
Reminiscent of the story from the 2011 film 'Paul', 'Farmageddon' follows Shaun the Sheep (Fletcher) and the rest of the flock on Mossy Bottom Farm as they try to help an extra-terrestrial called Lu-La (Vitale) get back home after crash landing nearby while having some fun along the way. Meanwhile, a sinister government agency is at work trying to find the poor alien as soon as the UFO lands in rural England at the opening.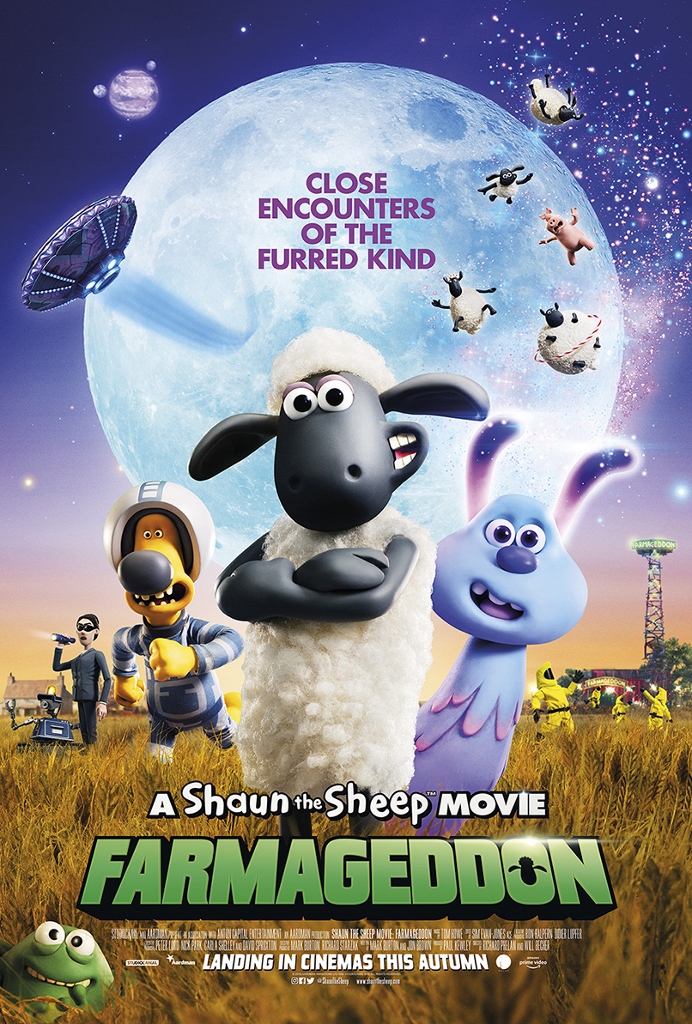 Featuring both slow-motion and time lapse sequences, the amount of moving parts in this film is seriously impressive. Each character, human, animal, extra-terrestrial and technological, has their own personality and agenda so we can recognise ourselves in them. From the hapless farmer and his money making schemes to the serious farmer's sheep dog Bitzer (Sparkes) and his overbearing rules and regulations, even the secret government agent, the supposed villain of the piece, and her relentless pursuit of the extra-terrestrial is granted an emotional backstory that we can relate to.
With a swirling score that would befit any Hollywood live-action science fiction action-adventure, 'Farmageddon' is packed with hilarious visual gags delivered with brilliant comic timing. Blink and you'll miss them. With exciting set pieces, from farm to town and supermarket to secret government facility, this animation benefits greatly from expert sound design for what is essentially a silent film. Who knew sheep could be so funny?
While children will no doubt be enthralled by the colourful visuals and sound effects the most, adults will enjoy the various in-jokes and homages to other works from the science fiction hall of fame such as 'Close Encounters of the Third Kind', 'E.T. the Extra-Terrestrial' and '2001: A Space Odyssey' to name but some.
Since its creation almost 50 years ago, Aardman Animations has won four Oscars and shows no signs of slowing down with a sequel to 'Chicken Run' set to be released next year 20 years after the original. After the success of this sequel, anything is possible.
'Farmageddon: A Shaun The Sheep Movie' is in cinemas now.