From the small to the big screen, 'Downton Abbey' returns in style.
Having watched every episode of the ITV series, broadcast over six series from 2010 to 2015, I can corroborate its hype as essential Sunday viewing.  But would its high quality acting, directing, writing and production values survive the transition from the small to the big screen?  Such was the anticipation surrounding this film adaptation from television, one would suspect it could never withstand the surreal sense of expectation.  Well, with creator and writer Julian Fellowes as captain of the mighty ship once again, we needn't have concerned ourselves.  It does.  
This film is a class act.
Joining him are the original, already expansive, ensemble cast, with even more additions, as well as the Primetime Emmy-winning theme music, whirling from the introduction, for a grandiose story of a royal visit to Downton Abbey and the high drama the event inevitably creates for both upstairs and downstairs. Smart moves in every possible direction.
From one set piece to another, gloriously staged and handsomely executed, every period piece requirement is delivered on cue. Steam train, Royal Mail, English countryside. And then the eponymous character of the entire piece, the great Abbey itself, rises out of the surrounding landscape with the early morning sun. 'Gosford Park' 2.0. Check, check, check.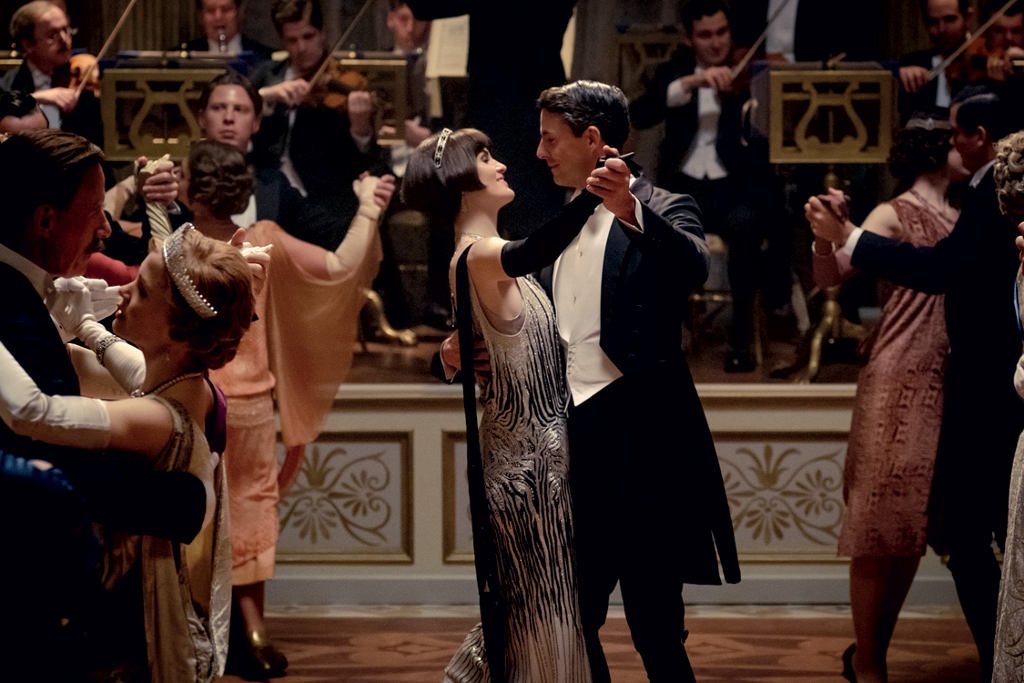 In the same way as the 2001 film by Robert Altman, with an Oscar-winning screenplay by Fellowes laying the foundations for the television series this film is adapted from, 'Downton Abbey' is a masterclass of multiple interweaving storylines.  Compressed into a two hour window, we are afforded glimpses into the lives of each selected principle character without ever feeling as though some are given more importance over others.  Every story is as engaging as the other.  No mean feat to pull off.  Unlike the class system, no character takes precedence.  
Every frame of film is a delicate painting, beautifully composed, with enough rapid fire dialogue, expertly choreographed, between the characters that even Aaron Sorkin would be proud of. Slow motion heightens the exquisite majesty of the cinematography while the romantically focused shallow depth of field is as sharp as can be. Punctuated with frequent humour and pathos, 'Downton Abbey' wraps up some stories, advances others and opens new chapters for the plot to continue beyond the final scene.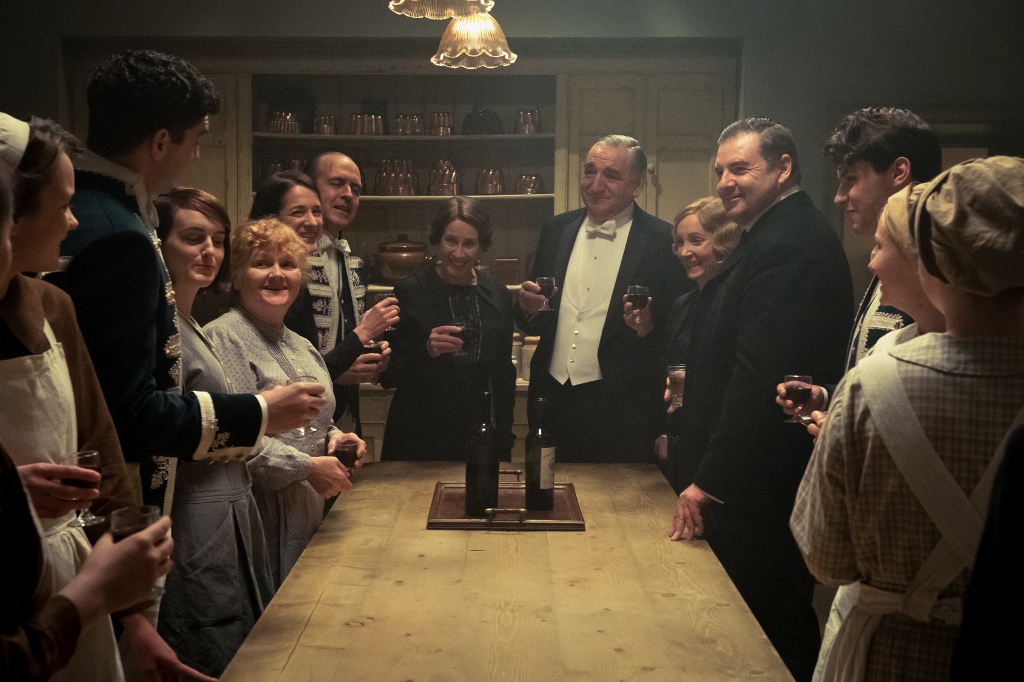 Glowing in the warm, wilting, late hazy summer evenings, 'Downton Abbey' is symbolic of the end of an era when great houses and estates, the owners and servants that lived and worked on them and the life of towns and villages that centred around them were slowly eroded as society evolved. Given how prevalent the class system still permeates Britain today, one wonders how much so. Maybe the popularity of period pieces such as these are a clue. We aren't reminded of how far we've come because we still recognise so much of us today in stories set almost a century ago.
Regardless, with attempted sabotage, invasion and murder in the mix, this film is both a must for fans of the television series and a helpful starting point for newcomers. As Lady Maud Bagshaw, Imelda Staunton does her very best Dolores Umbridge-esque disruption of the upper-class mirage while as Violet Crawley, Dowager Countess of Grantham, Maggie Smith brings her usual lightning bolt charisma to produce the performance of greatest range.
Fellowes could have made this film a one-note nostalgic celebration, but thankfully includes the darker aspects of life from that bygone age that can be too often viewed through rose-tinted spectacles. 
As the former butler Charles Carson (Carter) states at the end of the film, "Downton will still be standing 100 years later".  With the film set in 1927, 92 of those 100 years have already elapsed.  And Downton Abbey (in the form of Highclere Castle) still stands today. 
'Downton Abbey' is in cinemas now.
Direction:
Michael Engler
Screenplay:
Julian Fellowes
Cast:
Hugh Bonneville, Elizabeth McGovern, Maggie Smith, Michelle Dockery,
Jim Carter, Phyllis Logan, Joanne Froggatt, Imelda Staunton
Length:
122 minutes
Rating:
PG