Very well executed. No pun intended.
Direction (Josie Rourke), Screenplay (Beau Willimon), Cast (Saoirse Ronan, Margot Robbie, Jack Lowden, David Tennant, Guy Pearce, Martin Compston, Adrian Lester, Joe Alwyn), Length (125 minutes), Rating (R)
Chronicling two very disunited kingdoms during the 16th century, the story of Mary and Elizabeth has once again been adapted for film. Historians will argue until the end of time over whether the two monarchs ever met in person (the majority say not) and why so many historical inaccuracies have been created in favour of dramatic effect (as we now live in an era of post truth and so called fake news).
Perhaps the questions we should be asking, regarding the previous arguments, are how do we know for certain that they never met and why are we still confusing entertainment with information so easily?
Regarding the film itself, why is this period of our history so interesting to us today? Is it because two powerful women are in charge of a patriarchal society and since then power structures have not experienced any significant change? Despite this we are living in the second Elizabethan age with ever more women gaining and maintaining positions of power.
Is it because two iconic leaders of the past are fascinating to us given that we don't have any great figures to follow today?  Although in the last one hundred years there has been, for better or worse, Lloyd George, Churchill, Thatcher, Kennedy, Roosevelt and Obama, nobody makes the final cut this year.
Unfortunately, I have no definitive answers but 'Mary Queen of Scots' (without a comma) does at least compel us to think at length about these questions.
In much the same way as the 1971 film 'Mary, Queen of Scots' (with a comma), featuring Vanessa Redgrave as the eponymous character and Glenda Jackson as Elizabeth I, in this film both Queens meet face to face.  While the previous film collected five Oscar and five Golden Globe nominations, including Best Actress for Redgrave at both awards ceremonies, I thought Jackson gave the better performance. 
Whether this is because she epitomises my perception of the character of Elizabeth, (in the same way as Bette Davis, Cate Blanchett and Judi Dench do), in that film and in the 'Elizabeth R' television series from the same year, as possessing an authoritative voice, calculating mind and dominating presence, while as Mary, Redgrave appeared to me to have none of these attributes, I don't know.
What I do know is that in this film, the characterisations of Elizabeth and Mary appear to have reversed position.  As Mary, Saoirse Ronan delivers a thunderous performance complete with a flawless Scottish accent (historians also argue that Mary had a French accent in real life, but anyway..) to create the best interpretation of at least my idea of what Mary should be on film so far.  She may not be in control of her life or the destiny of her country, but she is driving this adaptation.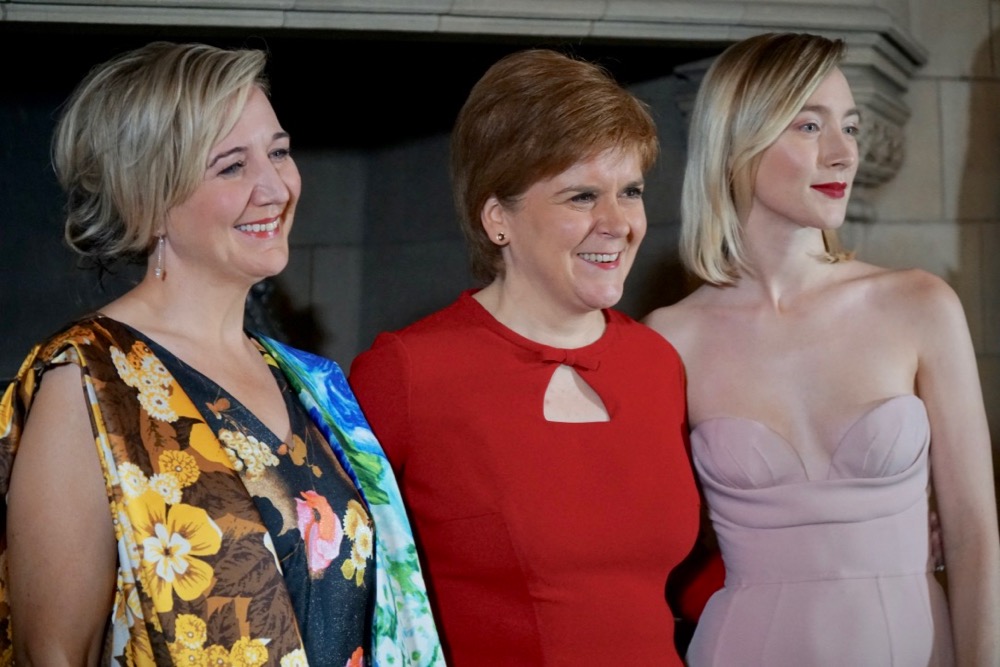 As Elizabeth, Margot Robbie is closest to Helen Mirren in the 2005 television series 'Elizabeth I'. While they don't own the low timbre of voice synonymous with The Virgin Queen on screen, they bring a greater emotional range and intensity to a character that can potentially appear inhuman and therefore uninteresting.
On the one hand, while Elizabeth dehumanises herself by refusing to marry and produce an heir, the wigs and makeup finalising the defensive armour, with this decision she makes an immense personal sacrifice to protect her throne and people and hence comes to symbolise the divine entity of an absolute monarch.
On the other hand, Mary is a queen who lives as an ordinary person and makes the human mistakes that cost her love, friendship, crown, country, freedom and life as a result.  However, Mary produces the heir that after the death of Elizabeth unites the thrones of Scotland, England and Ireland; James I. Who wins? I would call it a draw.
On a side note, just over one hundred years later the Act of Union 1707 would unite the kingdoms of Scotland and England (which included Wales) under the reign of Anne, Queen of Great Britain (played by Olivia Colman in the Oscar nominated film 'The Favourite').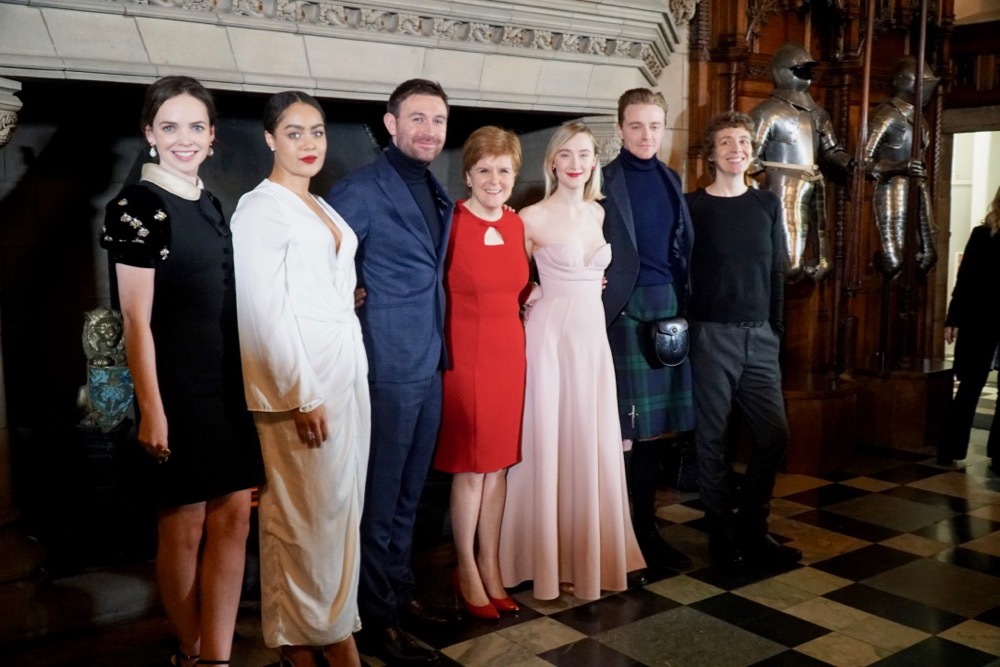 Admittedly, both Mary and Elizabeth switch back and forth in the power rankings throughout the film by the decisions they make or are made for them, with or without their knowledge, but while Robbie as Elizabeth walks away with her life, Ronan as Mary walks away with the film.
Equally as magnetic a presence is Scotland itself.  Used so effectively in the 2015 film 'Macbeth',  'Mary Queen of Scots' benefits from majestic cinematography that highlights the dark tones of the ruggedly desolate highland landscapes giving us a general sense of foreboding and isolation.  While we are still drawn to this beguiling wilderness, it is both beautiful and dangerous. 
Accompanying this rich scenery is a cerebral score that suits the tension for power between crowns and courts over lands and people. Despite no Oscar or BAFTA nominations for original score or cinematography, the opulent costumes and diverse makeup and hairstyling deserve commendation and have rightfully received recognition by both bodies.
Jack Lowden as Lord Darnley, Martin Compston as the Earl of Bothwell and David Tennant as John Knox all deliver strong performances as their disgusting characters while Guy Pearce as William Cecil, Adrian Lester as Lord Randolph and Joe Alwyn as Robert Dudley provide worthy support to this impressive ensemble cast.
Many scenes demand particular reference for their brilliance; the death of David Rizzio (spoiler alert), the execution of Mary Stuart (spoiler alert) and the slow paced eventual meeting of both Queens at the climax of the film being excellently directed and edited. Watch out for these classic moments.
'Mary Queen of Scots' is in cinemas now.
★★★