Nira Caledonia reopened on Thursday with a ribbon cutting ceremony, some fizz and canapés. It has been closed for a nine month refurbishment following a fire last year in Gloucester Place.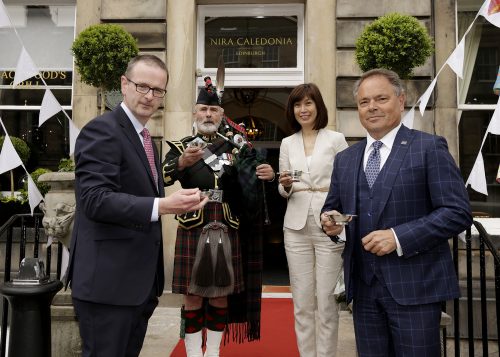 The work entailed 3 km of cabling, 300 litres of paint, 2000 square metres of carpet and 1092 square metres of wallpaper.
The result is a stunning boutique hotel with fabulous views of the Castle or Stockbridge from the top floor (ask for a top floor room if you can!) and a garden of your own to enjoy downstairs. There is a Jacuzzi suite at garden level too.
Nira Caledonia is part of Shianti Hospitality, a hotel and leisure company. Did you know that Nira is a Sanskrit word meaning 'pure' mirroring Shianti Hospitality's aim to provide pure original luxurious hotel experiences.
Blackwood's Grill, named after the 19th century magazine of the same name featuring the writings of previous owner of the building, John Wilson (otherwise Christopher North), is ready to serve you its speciality of Chateaubriand. The restaurant and bar have been part of the renovation, following significant water damage.
This is a hotel where General Manager Chris Lynch claims : "Stiff formality goes out the door – and you won't find any tartan or prints of Bonnie Prince Charlie.
"Instead, expect an easy-going style blending bohemian chic with contemporary living.
"We love the fact that we are a secret find for travellers looking for a special place to stay in our Capital.
"We think, in no time, Nira Caledonia will be seen as Edinburgh's premier boutique hotel."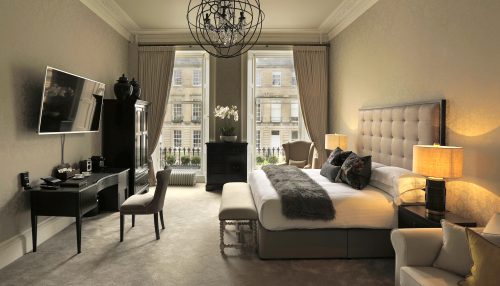 The period plasterwork and cornicing has been restored with painstaking attention to detail, and all the suites are beautifully refreshed with the help of local interior specialists Jeffreys whose showroom is nearby. The individual decor used in each room reeks luxury with all the modern comforts that you require for a city break.
General Manager Chris Lynch explained to The Edinburgh Reporter relieved he was to get to this stage. "It is absolutely fantastic. It has been nine months of hard work culminating in this. The team, the company, myself – everyone is genuinely over the moon to be this far down the line.
"There are fourteen rooms in the renovated part of the hotel, but we have 28 in total in the two Georgian buildings.
"We have been operating in a limited way while the renovation was going on. Regrettably the restaurant and bar were significantly damaged with water after the fire. But we were able to keep 14 bedrooms open with a wonderful room service breakfast!. Now we have a brand new menu, a brand new chef. We are famous for our chateaubriand and we are delighted to be able to offer that again."
We spoke to the Manager of @NiraCaledonia at the reopening party – lots of hard work to make the hotel look this good pic.twitter.com/in6NnEpD6c

— Edinburgh Reporter (@EdinReporter) May 27, 2018
Nira Caledonia is one of only three hotels in Scotland to be a member of Small Luxury Hotels of the World, which promotes only those which meet 730 exacting quality standards. Every one of its 525 members is inspected every year and must reach a minimum score on each standard.  
Filip Boyen, CEO at Small Luxury Hotels of the World (SLN), said: "We are delighted that Nira Caledonia will be fully open once again offering our guests the very best welcome and hospitality in the heart of Edinburgh.
"The hotel and its relaxed elegance characterises the independently minded spirit on which SLH is built and perfectly complements our other two hotels in Scotland. We encourage guests to use this reopening as a reason to visit, or revisit, this wonderful city."
The work was overseen by Edinburgh – based GLM and Bell Building Projects from Glasgow. It is the aim of the hotel to use local suppliers as much as possible.
Chris said : "By being boutique and independent, it means that we can be selective to choose the best suppliers who can deliver the optimum products and comforts for our guests.
"That covers everything from hand-stitched 2000 pocket-sprung British-made beds, to the sausages made by the local butcher George Bower in our breakfast to being the only hotel in Scotland to offer L'Occitane products in every bathroom.
"We even chose our Cru Kafe coffee pods as they were they were only ones which are fully recyclable while the coffee itself is Fairtrade and organic."
For further information visit niracaledonia.com or call 0131 225 2720