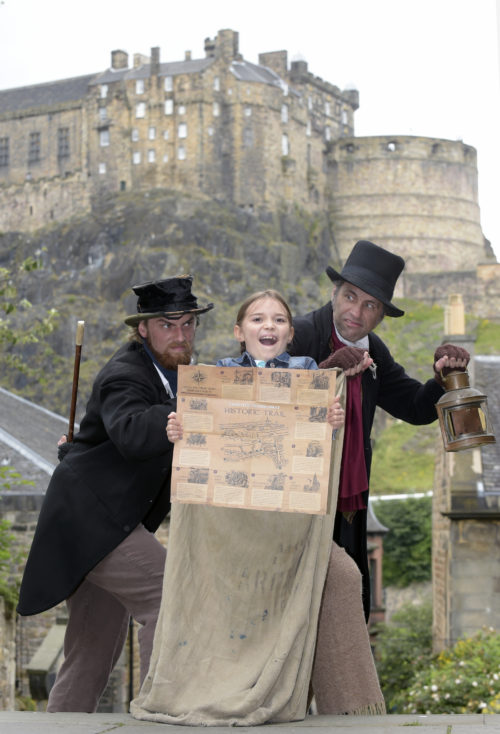 The Greater Grassmarket Business Improvement District (BID) has launched a free-to-use Historic Trail this week in association with Edinburgh World Heritage.
The Trail brings to life centuries of history from Edinburgh's historic Old Town and aims to provide a large boost to tourism and business in the area.
Visitors to the Greater Grassmarket will be invited to step back in time and learn about some of the fascinating and lurid history of Edinburgh's Old Town, hearing tales about some of Edinburgh's most infamous characters such as Burke and Hare and Half-Hangit Maggie (Maggie Dickson) via an innovative audio trail located at 11 different positions along a mile and half route.
The free self-guided tour takes around an hour to complete and covers the entire Greater Grassmarket area. Visitors can follow the trail by picking up a free map in local cafes, shops and pubs in the Grassmarket, or follow it on their mobile via the Historic Trail website by clicking here.
At 11 different audio spots along the route visitors can tune in to an audio version of the trail that will give them an even greater sense of the sights, sounds and Grassmarket characters of the past. Four pillar-style information points feature throughout Grassmarket Square to point visitors in the right direction and guide them to the local hotspots as well as shops, boutiques, restaurants and bars.
The Historic Trail is part of the Greater Grassmarket's wider plan to drive further footfall to the area by developing family-friendly events and activities for both locals and tourists. In addition to information provided by Edinburgh World Heritage, local resident and historian Elspeth Wills provided an archive of material to help with the trail's development.
Fawns Reid, Chair of Greater Grassmarket BID, says: "Working with Edinburgh World Heritage has enabled us to delve deeper into the captivating history of the Grassmarket and bring some of the infamous historical characters to life through our audio guides, signs and map.
"Whether you're a tourist, local resident, history buff, or simply enjoying a day out with the family, the Historic Trail is for everyone to enjoy."
David Hicks, Communications Manager for Edinburgh World Heritage said: "The Grassmarket is a key part of the World Heritage Site, and has been a place to trade and live for centuries. The trail lets visitors discover some of the stories and legends the area has to tell, revealing its historic character as a place of bustle and life."