UPDATE – SEE POST OFFICE STATEMENT BELOW
The post office in Duart Crescent, on Drum Brae housed in the Caledonian News shop was closed last Thursday by Post Office Counters Limited apparently without notice. This has left residents without a local post office and made some of them extremely angry.
Residents have started an
online petition
to have the post office reopened, and a paper version of the petition will be available in the shop soon.
The Chair of Corstorphine Community Council Kenny Wright told The Edinburgh Reporter that around 50 people attended the council's monthly meeting on Monday night. He himself had only got to know about the closure when he met another resident in the street on Saturday. Mr Wright said: "There are a lot of elderly and infirm people in this area, and lots of pensioners. One guy who came to the Community Council meeting on Monday night has been told to get a bank account for payment of his benefits.
"When I got to the meeting I knew right away they were there about the post office.  There were so many people there, over 50 new faces all wanting to have their say.
"The Post Office has removed this vital core service wilfully and callously without recourse to any consideration of the elderly and infirm within our community AND without provision of any explanation or rationale.
"Our community deserves better from a business which claims to have the following values:
'Care is the cornerstone of our business. It means valuing people and their time; making it personal; listening and understanding; being guided by our conscience and expertise; and keeping our word. In short, it means doing right by people, whether they're our customers, colleagues or partners'
"Empty rhetoric is what our community appears to have received.
"The great worry is that while we get ready for a battle we are without a post office."
The Edinburgh Reporter NEWS – Post office closure from Phyllis Stephen on Vimeo.
Alex Cole-Hamilton the newly elected, and as yet not sworn in, MSP for Edinburgh Western was outside the shop to speak to Mr Kirwani and the local residents last night. He said: "It's terrible.  The other closures in the area were carried out with the assurance that the office at Duart Crescent would remain open. If you are elderly, infirm or have kids it is too difficult to get down the hill to St John's Road.
"A post office is the surrogate hub of the community and much more than just somewhere to pick up your pension. It is the only slice of social inclusion available to some of the elderly residents. As we close these counters it is another barrier to their involvement in society.
"I am sure we have all heard anecdotes of people raising the alarm as someone has not collected their pension for a couple of weeks. That will all be lost if this is a permanent closure."
The shop owner Asif Kirmani (42) has run the shop for ten years as a newsagents and took the post office franchise over in January last year. He told us that the post office insisted that he made some changes to the layout including moving the counter to the front of the shop where he said it was more difficult for customers to wait their turn. Mr Kirmani said the alterations cost him over £6,000.
He also told The Edinburgh Reporter that taking on the post office as part of his business has cost him his life savings.  The way that postmasters are now paid is no longer on a salaried basis, but on a commission basis according to business generated. Mr Kirmani explained that for selling 1000 first class stamps the commission is 10p.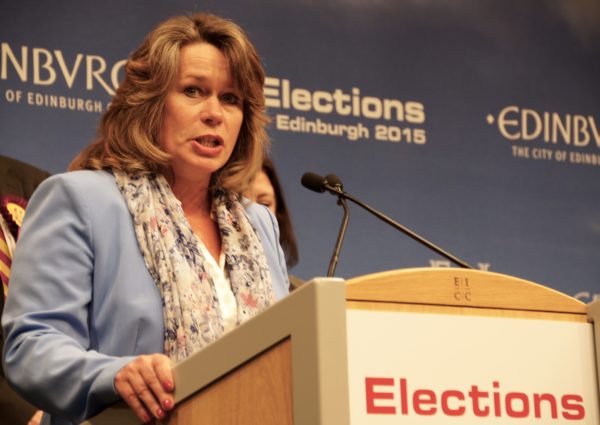 The local MP Michelle Thomson told us she has written to the Post Office to find out what is happening. She said: "I was very concerned to hear of the closure of the Post Office in Drumbrae."Post offices provide essential services within our communities and it is vital that people are able to access these services in their local area.
"Following the closure of Drum Brae, local people will have to travel to either Davidson's Mains or Corstorphine to access Post Office services. For those who are unable to travel far or access public transport, this obviously poses a significant challenge and I am concerned about the implications of the closure for these people.
The post office at Duart Crescent is not included on any consultation list published on the Post Office website, although the company has consulted on the future of the post offices at 40 St John's Road and 166 Balgreen Road in the past couple of years.
BBC Panorama aired an investigation last year into the way that some postmasters were prosecuted after their computers showed irregularities.
'Trouble at the Post Office'
included evidence from a whistle-blower who said there were problems with the computer system which the Post Office vigorously denied.
Mr Kirwani told us that he has not been accused of any dishonesty, but that the Post Office has advised that he owes them a substantial sum.
A Post Office spokesperson said:  "We would like to apologise to customers for any inconvenience caused by the temporary closure of Duart Crescent Post Office. This is due to operational reasons. We are working hard to restore services to the area as soon as possible. In the meantime, customers can access Post Office services at any branch, with Barnton Post Office being the closest alternative. "