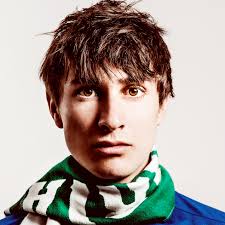 Tom Rosenthal – Благодаря, Pleasance Beneath 20:15, until 25 Aug, £12/10 (£10.50/£8.50 concessions)
It's generally known that Tom Rosenthal is the son of sports commentator Jim Rosenthal. It's likely that he is known for starring in Channel 4's Friday Night Dinner. It's perhaps slightly less likely that he is known for starring in ITV2's Plebs. The filming of the latter forms the basis of Благодаря, which is revealed to mean 'thanks'/'thank you' in Bulgarian and was a title choice that apparently caused havoc for the Fringe's printing and online typeface team. The show is a chance for Rosenthal to share a few stories and viewpoints from his foreign trip.
An interesting use of video at the start of the set led to Tom's appearance on stage. He was initially composed but soon began to falter as the laughs were perhaps quite not up to the level Rosenthal had expected. A certain 'nervousness' grew within, so much so that he completely skipped an anecdote which, as a result of being missed, made the punch line of what was said completely void. He did very well in overcoming this by accepting his error, turning the silence into laughter, but through the remainder of the show there was a slightly anxious aura being emitted from his direction.
This was quashed, eventually, with his 'party trick' (which will not be revealed here) which does make for comedic viewing. The final segment is dedicated to Pleb's co-star Danny Dyer – if, by this point, an audience member was unaware of Plebs and then realised they had not seen Danny Dyer, they would most likely be completely lost and begin wondering what to do after the show.
Rosenthal's performances to date in Friday Night Dinner have been great, but he really stood out in Plebs as an actor with solid comedic timing, perhaps suggesting that he is better suited to a scripted comedy role.
Having said this, further development of pacing his storytelling and more televised stand-up could perhaps allow him to juggle between the two professions for some time.